How much should a parts cleaning machine cost?
Running an effective repair workshop means keeping the right equipment at hand - including maintenance tools. Parts cleaning includes everything from large car parts riddled with grease and dirt to fine internal components, like fuel pumps. It also includes machines for the removal of paint and rust when respraying body parts.
With loads of different car part cleaners on the market, it can be hard to find the right model at the right cost.
At SpillPro we offer a full range parts cleaning machines at varied prices to meet your budget.
Different types of parts cleaning machine
There are three main categories of parts cleaning machines, each with their own applications.
1. Hot spray washing
Hot spray washing cleans parts with high temperature water sprays and detergent additives. These automatic machines use timers and temperature settings that can be adjusted as required. Stubborn dirt, grease and rust deposits are easily cleaned with hot spray washing.
These machines are the heavy-duty workhorses of auto and smash repair world. They have a range of models in varied sizes to suit any surface.
2. Fluid based parts cleaning machines
Fluid based parts cleaning machines are manually operated. A solvent mixture cleans parts as they soak in the tank. Operators use a brush to remove ingrained hydrocarbon deposits. Solvent solution flows through the brush while cleaning, adding to the overall effectiveness of the machine. Models are differentiated based on size and additional features.
3. Blasting and sanding machines
Remove paint and rust from hard surfaces using the BlastVac machine, the combined vacuum and blower power of BlastVac uses measured force to prepare car parts for respraying.
After respraying, use the Painteater machine to remove trace paint residue that can cause quality problems in the next spray paint application. Painteater cleans spray paint equipment using a high concentrate of cleaning agent under pressure.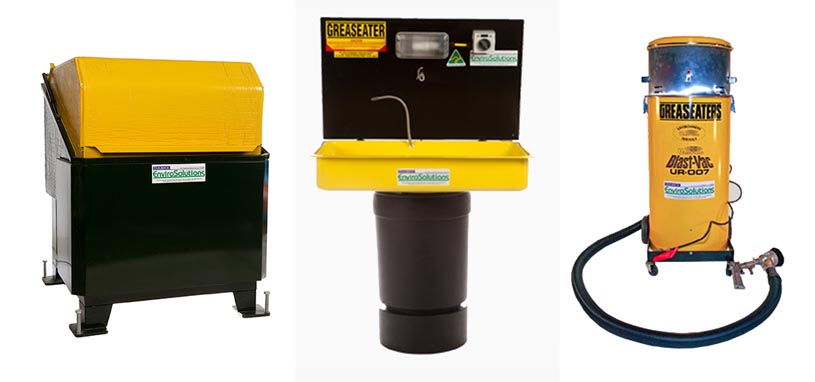 Cost breakdown for parts cleaning machines
| Machine Type | Model | Starting Price |
| --- | --- | --- |
| Hot Spray Wash | SWE800 | $14,695 |
| Hot Spray Wash | SW1100 | $22,330 |
| Hot Spray Wash | SW1400 | $24,795 |
| Hot Spray Wash | SW1400 High Top | $31,695 |
| Fluid based parts cleaning machines | 86H Heavy Duty | $1,895 |
| Fluid based parts cleaning machines | 86G | $1,670 |
| Fluid based parts cleaning machines | 86LV Low Voltage | $3,495 |
| Fluid based parts cleaning machines | 86 Air Pneumatic | $1,595 |
| Fluid based parts cleaning machines | F07 Filtered | $5,995 |
| Fluid based parts cleaning machines | Lowliner underbody | $2,425 |
| Fluid based parts cleaning machines | Mini G | $795 |
| Fluid based parts cleaning machines | 96 Large machine and soak tank | $3,795 |
| Smash Repair | BlastVac | $1,995 |
| Smash Repair | Painteater Mark II | $1,195 |
Servicing your cleaning machine
Services are essential for the maximum life-span and usability of your machine. Operating in robust environments, parts cleaning machines are exposed to chemical and mechanical stresses. Rust particles and oil residue can cause major problems if left to accumulate over time.
Simple maintenance tasks like cleaning filters and removing waste and residue can be the difference between a machine that runs smoothly for months and one that breaks down every week. In depth maintenance tasks are also required, including checking machine rotation and clearing blockages from the spray nozzles.
SpillPro offers lease contracts for all our parts washing machines including service plans. Our experts evaluate the operating conditions of your site and come up with custom plans for your facility. Our service frequency and task lists are set up according to the specific requirements of your operation. SpillPro also offers peace of mind by switching out your machine for another one if you have a failure while under a lease contract.
For more information, speak to SpillPro
SpillPro supplies and services parts washing equipment for auto and smash repair workshops. We supply industrial parts cleaning machines on a sale or rental basis to suit your requirements. Our maintenance services give you peace of mind that your auto and repair shop will get the support you need to keep you online.
Visit our website to find out more or call our expert team on 1800 368 450 today.
Must Read
SpillPro on 25 August 2016
Here's how to keep your spill kit functioning as it should with regular maintenance ...
Read more
SpillPro on 2 May 2016
Sometimes transporting medical waste from remote sites is cost-prohibitive. Here's how to eliminate that problem by disposing of it on site ...
Read more