Oil skimmer price guide: how much will an oil skimmer cost?
Oil spills on water are dangerous because they spread across water surfaces extremely quickly. When cleaning up these spills, time is of the essence. Oil skimmers provide an effective means to remove oil for disposal. However, there are many types of skimmers available on the market; you may be wondering which one is the right one for your application, and how much it will cost.
SpillPro supplies a wide range of oil skimmers for the Australia and the South Pacific. Here, you'll see a summary of their uses and prices to help you determine which skimmer meets your requirements.
Oil skimmer prices at a glance
| Skimmer type | Use | Price |
| --- | --- | --- |
| | Creeks, rivers, lakes | Starting from $2,700 |
| | Lakes, dams, offshore | Starting from $60,000 |
| | Offshore, nearshore | Pricing on request |
| | Calm water, shallow pools, nearshore | Starting from $2,600 |
The technology behind each skimmer makes it suitable for specific applications.
Drum skimmers
Drum skimmers are the workhorse of oil spill recovery. They are robust and can be used in most water systems, including offshore.
| Model | Price |
| --- | --- |
| Minimax | Starting from $5,995 |
| TDS118 | Starting from $6,995 |
| Magnum | Starting from $30,000 |
How it works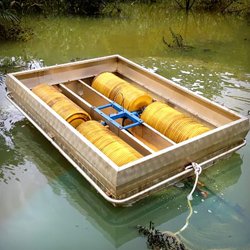 SpillPro drum skimmers have aluminium frames, which are lightweight for easy transport and handling. Their rotating drum is made from high density polyethylene, making them resistant to impact and abrasion.
A pneumatic or hydraulic power source turns the drum. Oil sticks to its surface and is scraped off into a collection trough. The same power source pumps the recovered oil to a collection tank onshore, or on vessel.
Benefits of drum skimmers
Drum skimmers range in capacity from 5,000 to 180,000 litres per hour. They recover 97 per cent oil and 3 per cent water, which is very efficient compared to other oil skimming solutions.
Weir skimmers
Weir skimmers are the ideal solution for large oil spills that form a thick layer of oil on the water surface. Their innovative design allows them to be effective even when there are waves in the water.
| Model | Price |
| --- | --- |
| Ocean Skater | Starting from $60,000 |
| Sea Skater | Starting from $50,000 |
| Circus River Skimmer | Starting from $25,000 |
How it works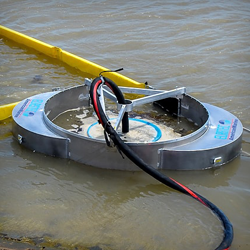 SpillPro weir skimmers have an innovative design with a large diameter float. This enables them to self-adjust for wave movement. The weir frame sits above the water, thus reducing draft and enabling fast recovery.
Weir skimmers act like a dam. The oil on the surface pushes over the weir and collects on the other side. A screw or salvage pump transfers the oil to a collection tank onshore or on vessel.
Benefits of weir skimmers
Weir skimmers range in capacity from 30,000 to 180,000 litres per hour. They have a fold-down design, which means they can be easily packaged for storage and transport.
Self-launching skimmers
Self-launching skimmers are the giants of oil spill recovery. They are used in emergency situations to respond to significant offshore spills where large volumes of oil must be recovered.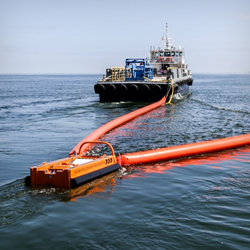 Given self launching skimmers are for large oil spills, these are difficult to price. It's best to contact us to tell us about your unique situation.
How it works
SpillPro's self-launching skimmers can be deployed from a vessel by three responders. They can be used in stationary mode, or in advancing mode, while towed behind a vessel. Hydraulic and discharge hoses are built into the sweep boom to complete the package.
Self-launching skimmers have grooved disks, which create a vacuum capillary effect. This dramatically increases the rate of oil recovery. A lightweight submersible pump sits in the specially-designed hull to transfer recovered oil to the vessel.
Suction skimmers
As the name implies, suction skimmers are like vacuum cleaners. They are most suitable for shallow or standing water.
| Model | Price |
| --- | --- |
| Shovelhead Skimmer | Starting from $2,600 |
How it works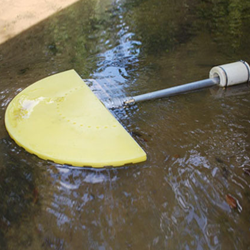 Suction skimmers are extremely simple devices which use a hose float, suction head, and standard hose lengths. The float keeps the suction head in position on the water surface while the hoses are connected together to make up the required length.
Either a vacuum system or suction pump can be used to draw the surface layer of oil/water via the suction head to a collection tank. The flow rate depends on the pump rating or vacuum system capacity.
Benefits of suction skimmers
Suction skimmers can get into places that are impossible to reach with any other skimmer. They are lightweight and use standard hose connectors. Therefore, they can be deployed by a single operator. Suction skimmers can work in very shallow waters of only 50 millimetres deep.
Contact SpillPro for more information about oil skimmer prices
SpillPro has extensive experience with small and large oil spills on water. We supply a wide range of spill skimmers which vary in technology, capacity, and price. Our experts can advise you on the best solution for your specific application.
Find out more about our full range of oil skimmers here, or call our expert team on 1800 368 450.
Must Read
SpillPro on 25 August 2016
Here's how to keep your spill kit functioning as it should with regular maintenance ...
Read more
SpillPro on 2 May 2016
Sometimes transporting medical waste from remote sites is cost-prohibitive. Here's how to eliminate that problem by disposing of it on site ...
Read more