Choosing a spill kit
Choosing a spill kit for your facility is an important decision. Regulators can impose fines for a lack of preparedness or an inadequate response to a workplace spill. So, how do you know which type of spill kit you need, and what size, and at what cost?
According to the Work Health and Safety Act (2011), the responsibilities of persons or businesses in regard to employee safety is as follows:
The employer is required to take all reasonable steps to prepare for and respond to oil and chemical spills.
Spill kits are one of the ways businesses demonstrate that they have fulfilled these responsibilities and provided protection to their employees and to the environment. When it comes to choosing a spill kit, you need the right absorbent material for the products that you use. The wrong absorbent is not only ineffective in cleaning up a spill but could even be dangerous, as incompatible products can become a source of ignition which turns a spill into a fire.
Spill kits come in sizes as small as 15 litres for facilities that use small quantities of chemicals and sizes as large as 240 litres for large-scale users. For industrial users, spill trailers can be equipped with spill response kits so that they can be transported around a facility to the site of the spill.
Before understanding spill kit prices, businesses must navigate the types of spill kits available and various size options to choose the most appropriate spill kit for their facility.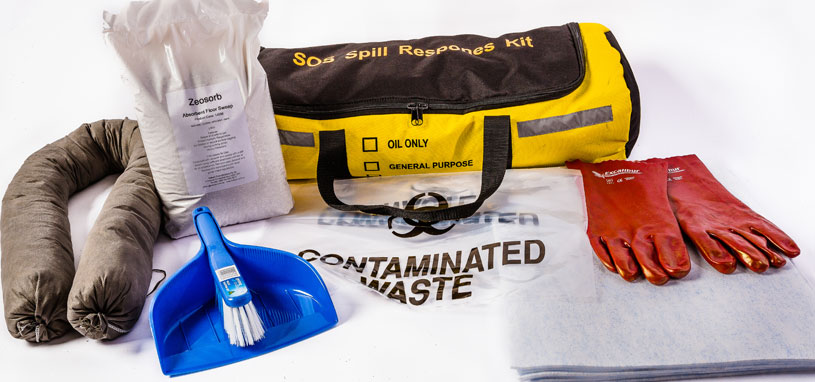 Different types of spill kits
Oil and fuel spill kits have the right absorbent material for hydrocarbon spills. They contain hydrocarbon pads and pillows for drips and leaks, along with floor sweep to clean up a spill from the ground. A plug and dike putty can be used to make a temporary seal in a leaking vessel.
General Purpose spill kits are used to clean hydrocarbon spills or water-based materials. Their diversity makes them suitable for industries like commercial kitchens, mining sites, and even medical laboratories.
Hazchem spill kits are highly specialised kits used to respond to spills of hazardous chemicals. Corrosive chemicals, like acids and bases, are aggressive and can cause serious burns, therefore they must be handled with extreme care. It is also possible for them to ignite when mixed with incompatible products.
In addition to specific absorbent materials and products in each spill kit, further items that are included such as personal protective equipment (for example, the Hazchem spill kit comes with chemical resistant gloves and goggles). These all affect the cost of a spill kit.
Cost breakdown for spill kits 
Spill kit
Applicable industries
Components
Starting price

Refining, mining, workshops, shipping

Waste bags

Absorbent pillows and socks

Floor sweep

PPE

15L from $49.95

120L from $230

240L from $285

40L marine kit from $110

Refining, mining, industrial sites, paint

Waste bags

Absorbent pads and socks

PPE

15L from $49.95

120L from $225

240L from $310

Refining, mining, marinas, workshops, industrial sites

Waste bags

Hazchem pads and rolls

PPE

30L from $85

120L from $225

240L from $340
SpillPro offers same-day dispatch on spill kits, provided the order comes in before 11 am. Freight costs are added to the cost of the kit itself and can vary significantly depending on the size of the spill kit and the delivery location.
Choosing the best spill kit
Now that you know spill kit costs, we recommend you get professional input when choosing a spill kit for your facility. Making the wrong choice could lead to an even more hazardous situation than the spill itself. SpillPro will provide spill kit set up advice.
Identify spill types
The first step in choosing a spill kit is to identify the products that could be spilled. If only hydrocarbon products are used at the facility, then oil and fuel spill kits are the best solution. Their absorbent material is designed to effectively absorb any fuel and oil products. If a mixture of water and oil-based products are used at the facility, then general purpose spill kits are more appropriate. When corrosive chemicals are used at the facility, a Hazchem spill kit is the only solution that can adequately deal with the chemicals involved.
Identify size
Once the type of spill kit is chosen, consideration must be given to size. It is worth conducting a risk assessment to determine the largest spill that could occur. Choose a spill kit that enables you to deal with the worst case scenario to avoid being caught unprepared in an emergency.
Contact SpillPro for more information about spill kits
SpillPro supplies a range of spill kits designed to help you clean up spills efficiently. Our experts can help you find the best solution for your specific industry and facility. Get the best advice about spill kits from the SpillPro team today.
Find out more about spill kits here, or call our expert team on 1800 368 450 today.
Must Read
SpillPro on 25 August 2016
Here's how to keep your spill kit functioning as it should with regular maintenance ...
Read more
SpillPro on 2 May 2016
Sometimes transporting medical waste from remote sites is cost-prohibitive. Here's how to eliminate that problem by disposing of it on site ...
Read more