5 step guide to preparing for chemical spills in the workplace
Preparation is your best defence against spills
Chemical spills are not limited to any one industry or business type. Simply put, any organisation that carries chemicals is susceptible to spills. Therefore, they must be prepared.
Spills regularly happen in:
Workshops
Laboratories
Chemical storage companies
Manufacturing sectors
Preparing an effective and fully-equipped hazardous chemical spill procedure is your best defence against chemical spills in the workplace. Here's how you can prepare for spills in five easy steps.
Just want the best chemical spill solution? Check out SpillPro online or call 1800 368 450
Step 1: Install hazchem spill kits
Hazchem spill kits provide you with the tools you need to manage chemical spills.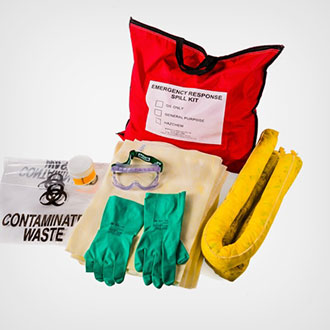 They feature:
Absorbents for soaking up spills
Gloves and goggles for protecting cleaners
Bags for collecting and containing chemicals
A bin for disposal of chemical waste
Quality hazchem spill kits provide you with a powerful first response to spills. As such, they should be included in every business's hazardous chemical spill procedure.
Spill kits also give your employees the equipment they need in order to respond quickly, efficiently, and most importantly safely to chemical spills in the workplace.
Step 2: Strategically place hazchem spill kits
Hazchem spill kits are most effective when they are placed strategically around facilities.
Your employees need to be able to quickly access your spill kits and to deploy them properly and promptly.
Ideally, you should locate spill kits:
Outside doorways to chemical storage areas
In places that will not be obstructed in the event of a spill
Where they can be easily seen and identified
Installing hazchem spill kits is half the battle. The other half is ensuring spill kits are placed in areas where they are easy to spot and easy to access.
Step 3: Ensure employees know what to do
Who is likely to first encounter a chemical spill in your business? Your workers? Cleaners? Or floor managers? Would they know what to do in order to safely contain a spill?
Training your employees to respond to spills doesn't have to be difficult or time-consuming.
However, it is vital that your employees receive at least some training in your hazardous chemical spill procedure. So they what to do, when, where, and how.
Ensure that your employees are trained in:
The proper use of hazchem spill kits
Avoiding chemical spill dangers
Quick and complete containment of spills
So, when chemical spills in the workplace occur, your staff know exactly what to do.
Step 4: Be aware of dangerous vapours
One thing that makes chemical spills in the workplace so dangerous is the vapours that can be produced.
Vapours and toxic fumes can cause unconsciousness, breathing difficulties, and inflammation. In extreme cases they can cause asphyxiation, poisoning, and other serious injuries.
Before starting a chemical spill cleanup:
Check your Safety Data Sheets (SDS)
Use Zeosorb floorsweep to suppress vapours
If cleaning outside, always stand upwind
Dangerous vapours aren't always obvious. Therefore, vigilance is important in ensuring safety.
Step 5: Have a plan for the disposal of spilt chemical waste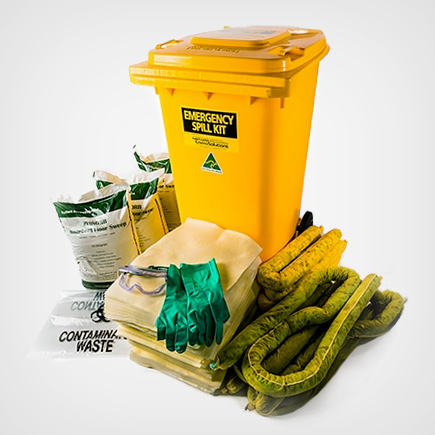 Part of your hazardous chemical spill procedure should cover the disposal of chemical waste.
Spilt chemical waste needs to be disposed of safely to ensure that your business does not breach Australian standards regarding the removal of chemical waste.
Many hazchem spill kits feature a bin for disposing of used absorbents, bags, protective equipment and the like. Spent materials can be placed in this bin for temporary storage.
Hazardous waste can then be removed via:
A chemical waste removal company
An onsite chemical waste incinerator
Waste resulting from chemical spills in the workplace should never be dumped with your business's usual garbage. This waste can be harmful to local environments and trash collection workers.
About the author
At SpillPro, we are Australia's leading supplier of spill management products and services. From oil skimmers to vacuum systems to spill containment devices, we do it all.
We've been in the market for more than 40 years. Over that time we've built our reputation on reliable quality, innovative products, and superior customer service.
You can find out more about the hazchem spill kits mentioned in this article on our website.
Must Read
SpillPro on 25 August 2016
Here's how to keep your spill kit functioning as it should with regular maintenance ...
Read more
SpillPro on 2 May 2016
Sometimes transporting medical waste from remote sites is cost-prohibitive. Here's how to eliminate that problem by disposing of it on site ...
Read more