A guide to implementing and using hazchem spill kits in your workplace
Almost every type of business and industry uses chemicals. Golf clubs use herbicides and pesticides. Laboratories use acids and bases. Automotive workshops use cleaning chemicals. Commercial facilities as well as small and large manufacturing companies make use of chemicals in their normal daily operations.
Some of these chemicals are hazardous and have the potential to cause serious injury and environmental damage when not handled properly. Management of hazardous chemicals includes responding to spills quickly and effectively.
Hazchem Spill Kits contain everything you need to respond to a chemical spill in the workplace.
Placing and managing Hazchem Spill Kits
Many incidental spills that pose no immediate risk to the health of employees or to the environment can turn into major incidents when left unattended. Storing Hazchem Spill Kits in the right place gives employees the opportunity to get a spill under control quickly. Spill kits should be distributed around the workplace to ensure that one is always within easy reach of employees responding to a spill.
Each workplace is required to develop their own company procedures and work instructions that describe what action to take in the case of a spill. All employees that should be trained to follow these procedures.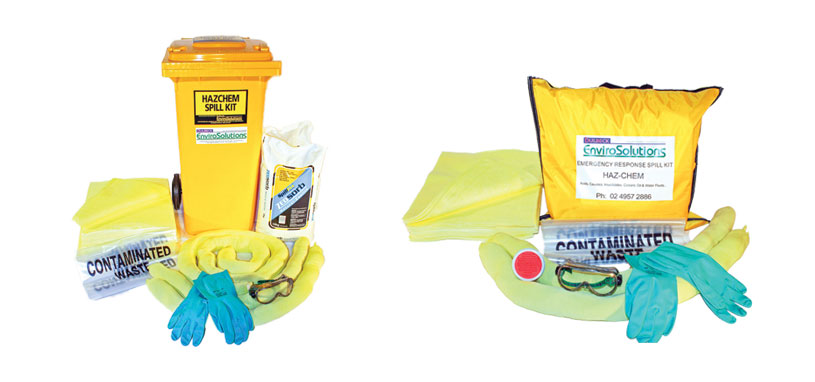 Training to use Hazchem Spill Kits
Training of employees is a key to spill readiness when handling hazardous chemicals. Every new employee should be equipped with a thorough knowledge of the chemicals in use. Refresher training every year keeps the information current, and competent employees will feel more confident to respond to a spill because they know what action to take.
The Material Safety Data Sheet (MSDS) supplied with hazardous chemicals provides information about its properties and hazards. Spill kits come with a manifest of contents and a seven step guide to cleaning up a chemical spill. The seven steps are as follows:
Assess the situation

Contain the spill

Use appropriate PPE

Apply absorbent material

Dispose the waste absorbent into disposable bags

Report the spill

Restock the spill kit.
For an effective oil spill response, include the seven steps in company procedures and employee training.
Training should also cover the contents and use of spill kit equipment. Hazchem Spill Kits are unlike general purpose spill kits because they contain specialised PPE. This is to resist the corrosive and harmful effects of hazardous chemicals. The absorbent material is also suitable for hazardous chemicals, not just hydrocarbons.
All employees who may come into contact with the hazardous chemicals should be fully trained in the case of a spill.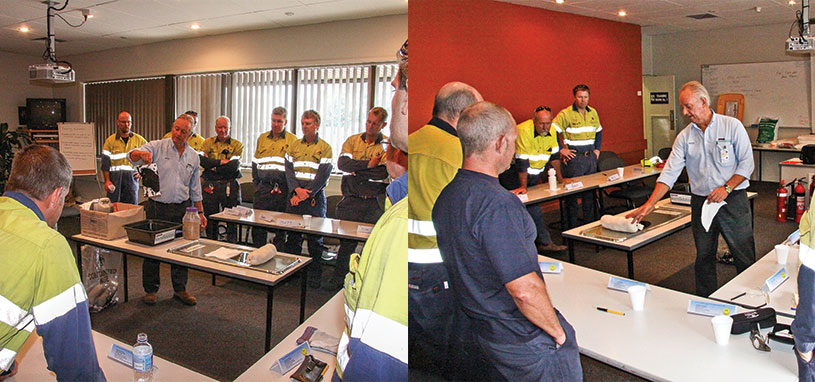 The consequences of inadequate Hazchem Spill Kits and response
In 2017, on two separate occasions workers were injured cleaning up chemical spills in restaurant and hotel kitchens. In both cases, a highly caustic automatic dishwasher detergent had spilled. Cleaning workers were uninformed and unprepared to deal with the hazardous chemical. Their casual soft-soled shoes and socks became soaked consequently exposing them to chemical burns.
Investigations into the incidents by SafeWork NSW revealed safety failures that had contributed to the injuries. Information about the hazardous nature of the chemical was not readily available to the employees, and they were untrained. In addition, the correct PPE was not provided and there was no defined spill management process.
Implementing Hazchem Spill Kits with associated training and procedures could have prevented this incident and the injuries it resulted in.
Setting up Hazchem Checklists
Maintenance checklists are an important aspect of Hazchem Spill Kit management. The manifest of contents of a Hazchem Spill Kit provides the basis of a checklist. If any element of the kit is missing, it may stunt adequate response to a spill which could result in injuries.
Checks should include the state of the spill kit equipment; and any worn tools, or damaged PPE, must be removed and replaced.
Establishing a checklist process with regular inspections and corrective action will ensure that spill kits are ready and effective when needed. After every spill, the kits must be replenished in case of another emergency.
Contact SpillPro for more information about Hazchem Spill Kits
SpillPro has extensive experience in Hazchem Spill Kits. Our trained technical experts can supply and replenish spill kits customised for your specific chemicals. We also train your staff to use the Hazchem Spill Kits in the case of an emergency.
Find out more about Hazchem Spill Kits here, or call our expert team on 1800 368 450 today to discuss Hazchem Spill Kits.
Must Read
SpillPro on 25 August 2016
Here's how to keep your spill kit functioning as it should with regular maintenance ...
Read more
SpillPro on 2 May 2016
Sometimes transporting medical waste from remote sites is cost-prohibitive. Here's how to eliminate that problem by disposing of it on site ...
Read more