Active and Passive Spill Containment
Spill containment is the last line of defence that prevents spilled oil and chemicals from entering sewer systems and the environment. Once a spill escapes from the source location, environmental consequences are much more severe. Large areas of sensitive wetlands, rivers, or community areas may be contaminated by a relatively small amount of oil. This requires expensive clean-up operations, not to mention fines imposed by authorities.
However, spill control solutions come in many different shapes and sizes. Some solutions are active - meaning they require people to take some action to put the containment measures in place. Others are passive - meaning they can be left in position to contain spills when they occur without human intervention.
Active spill containment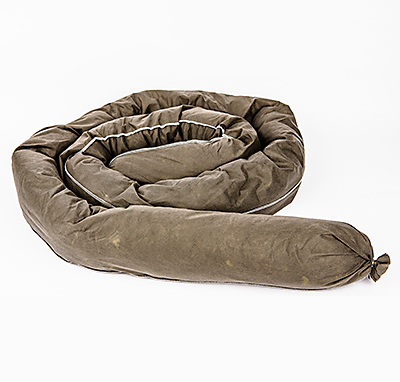 Generally, active spill containment is used in temporary situations. This could include refilling or dispensing operations where there is a risk of a spill only during the activity. Workers should examine the area and identify where a spill may enter a drain or the environment. Active spill control solutions can be placed as a barrier to prevent this from happening. The following table highlights some active spill control products and their uses:
| Product | Use |
| --- | --- |
| | Placed underneath a drain cover. The special fabric absorbs oils but allows water to pass through. |
| | A neoprene seal that lies on top of a drain grating. It prevents any liquid passing through. |
| | Push the putty into a leaking drum or container to stop the leak. |
| | These sausage like absorbent materials can be placed around a drain or loading area to absorb spills. |
Passive spill containment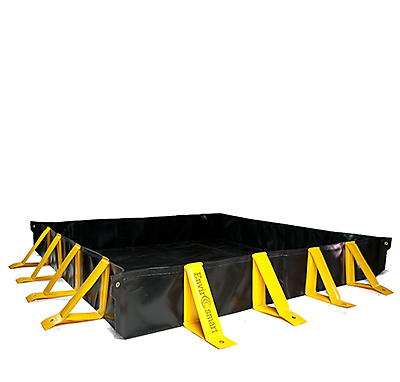 Generally, passive spill containment is used in remote locations where no personnel are present or in high risk areas where spills could occur at any time. A number of different options are available to cover large surface areas or targeted smaller areas. The following table highlights some passive spill control products and their uses:
Product

 

Use

This specially designed pallet has an inbuilt sump to capture leaks from containers stored on the pallet. It is made from polyethylene to resist chemical attack. The sump has sufficient volume to contain the complete contents of a drum.

 IBC pallets are similar to spill pallets. Their larger sump size can contain the complete contents of an IBC unit.

 Used to cordon off an area in a warehouse, workshop, loading bay etc. Their bevelled edges and robust materials can handle a 1-ton load without distortion. 

 Creates a bunded area, which could be disassembled and reassembled as needed. Ideal for storing drums, equipment, pumps, generators etc. Seam welded and high chemical resistance for longevity. 
How to choose the best solution for your application
While the options for spill containment are many and varied, each solution is best suited for specific applications.
Passive containment is used for tasks that could generate a spill. Drain covers are good for temporary oil or chemical transfers, where hoses could burst, or pump seals fail. Setting up passive containment solutions in advance of the activity is always better than trying to set it up while product is already on the ground. Carparks, driveways, and trucking lanes are other applications that could benefit from passive spill control.
Active containment is for conditions where a spill could happen at any time. Spill pallets are good for staging areas, where drums are loaded and unloaded for use in other areas. Active spill control is used in mining and exploration sites, refuelling and debunking locations, remote build pads, temporary works locations, and warehousing and storage facilities. It is advisable to conduct a risk review of the area to assess the best active spill control solution for the actual tasks and conditions of the site. 
Contact SpillPro for more information about active and passive spill cpntrol
SpillPro supplies a range of active and passive spill control products. Our service offering includes site audits and recommendations of the best spill containment products for your specific needs. Our experts have many years experience in the industry with a track record of environmental protection. SpillPro keeps you compliant and gives you peace of mind.
Find out more about our spill containment solutions or call our expert team on 1800 368 450 today.
Must Read
SpillPro on 25 August 2016
Here's how to keep your spill kit functioning as it should with regular maintenance ...
Read more
SpillPro on 2 May 2016
Sometimes transporting medical waste from remote sites is cost-prohibitive. Here's how to eliminate that problem by disposing of it on site ...
Read more