Eliminating clinical waste in remote areas
Sometimes transporting medical waste from remote sites is cost-prohibitive. Here's how to eliminate that problem by disposing of it on site.
Hospitals in remote areas experience problems eliminating clinical waste. That's because there is major cost involved in transporting it to a central hazardous waste collection facility.
This can cause serious issues as stored medical waste can cause - or exacerbate - the spread of infectious disease.
Threats to community health
The stored medical waste issue is a problem SpillPro technicians have experienced first hand in Fiji and other remote pacific islands.
Often, highly contaminated clinical waste would be left around village hospitals. When it wasn't being discarded in the streets, it was often buried in general waste dump areas where dogs could dig it up.

And even when hazardous waste was transported properly, it would still be stacked for long periods while awaiting pick-up.
Site incineration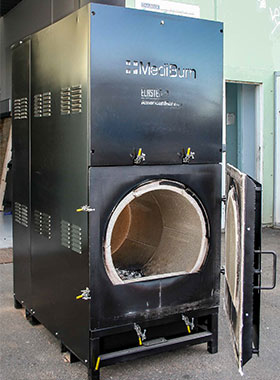 In order to avoid stored or discarded medical waste spreading disease, many remote communities turn to on-site incineration.
As a result, portable medical waste incinerators have emerged as cost-effective means of eliminating dangerous waste - in a fast and efficient manner. Smaller units, like the Mediburn 30 are now a common site in many remote islands of the Pacific as well as small towns in outback Australia.
These compact incinerators can burn 30kg per hour of clinical waste at very high temperatures (up to 1200C ).
Not only does burning waste as these temperatures eliminates toxic furans and dioxins, there is also no smoke or smell produced. The units are simple to install and are a "plug and play" solution - they are delivered 100% setup and ready to use.
Duel chambers and constant high temperatures means the Mediburn 30 meets EPA and U.N. standards for the use of small incinerators. In fact, the UN and United States Defence Forces use the units in remote areas during humanitarian and peacekeeping operations.
The results
If any organisation knows the benefits of installing properly-working incinerators in remote hospitals, it's Fiji Health. They contacted SpilllPro as their hospitals had old incinerators that no longer worked. Infected clinical waste - which should be incinerated very quickly after use - was starting to build up. And it was causing major health issues.
So SpillPro installed Mediburn units in four of their most remote hospitals in Nadi, Taveuni, Savusava and Nabouwalu. We also provided commissioning and training so that the operators could use them safely and efficiently.
Within weeks, the hospitals had managed to clear the backlog of clinical waste - thanks to the Mediburn units' ease-of-use and high burn rate. As a result, conditions in the hospitals and surrounding villages improved dramatically. A cleaner environment means there is now minimal chance of catching disease from hospital waste laying around or dumped in the local general waste garbage area.
The key benefits Fiji Health continue to enjoy are:
Improves the health risks to the community
Save costs on hazardous waste transportation
Save space by eliminating clinical waste quickly, safely and efficiently
For information on clinical waste incinerators, call 1800 368 450.
Must Read
SpillPro on 25 August 2016
Here's how to keep your spill kit functioning as it should with regular maintenance ...
Read more
SpillPro on 2 May 2016
Sometimes transporting medical waste from remote sites is cost-prohibitive. Here's how to eliminate that problem by disposing of it on site ...
Read more