Everything you need to know about medical incineration
Have you ever wondered how body parts are disposed of?  
While it may sound grim, disposing of medical waste is a very serious issue in the medical profession.  
Hospitals and medical facilities, as well as vet clinics, military bases, airports, laboratories, blood banks, mining operations, remote communities and more, require safe and reliable medical disposal methods. 
The risk of infection, as well as legal and ethical requirements, makes safe medical disposal absolutely necessary. 
Medical waste can include:
Clinical waste e.g. syringes, wrappings, and expired medicines
Lab waste, such as filter paper and tissues
Trace chemotherapy and non-hazardous pharmaceutical wastes 
Animals and body parts. 
The problem of safely disposing of medical waste 
Proper disposal of medical waste can be a major problem for remote facilities and communities, where there are no external disposal services available. This is a very important issue to solve. Medical incinerators may be the answer. 
Medical waste incinerators use diesel burners and control the burn temperature at over 1000 degrees celsius. Due to these very high temperatures, all harmful compounds like dioxins and furans are completely destroyed. It's medical waste disposal how it should be - safe, quick and effective. 
Are there other options to dispose of medical waste?
There are alternatives to incineration such as autoclaving, chemical treatments or ozone disinfection. However, these technologies are inferior. They do not completely destroy certain medical wastes, such as pharmaceuticals and specific pathological wastes.
In our opinion, an incinerator is the best option. 
Why use a medical incinerator?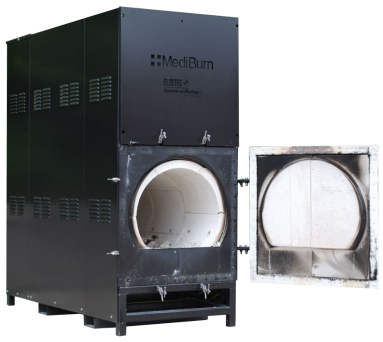 There are a number of reasons, including:
They are compact, so appropriate for most sites and won't take up much space
They have a small footprint, making them portable and easy to transport for field operations or to remote locations
They are environmentally compliant and safe, with clean emissions 
Medical incinerators can burn up to 30kg of hazardous medical waste per hour, making them efficient, economical and good for the environment
They are easy to use, with minimal training required. Unpack and use!
Minimal ash is left behind
Safe to use. 
How exactly does a medical incinerator work?
Controlled electronically, the incinerator requires only a few simple steps. 
First, load the chamber and close the door. 
Then, set the time and turn on the unit. The diesel-fuelled modulating burners and under-air technology then incinerate anything up to 30kg of clinical waste per hour. 
All the unit requires is a power supply and diesel fuel.
Where can medical incinerators be delivered to?
We will work with you to get your incinerator delivered as quickly as possible. We can install an incinerator in your premises anywhere in Australia or the South Pacific region, including New Zealand, Papua New Guinea, Fiji, Samoa, Tonga, New Caledonia, and Kiribati. 
Case study - the Mediburn in use 
SpillPro has provided medical incinerators - the Mediburn - to the likes of Fiji Health.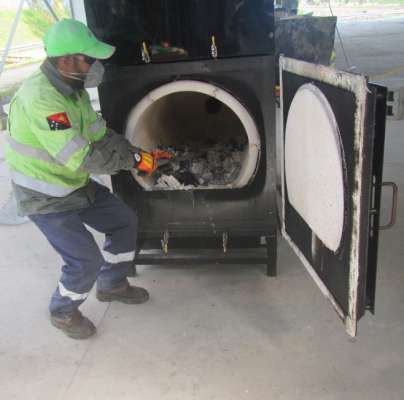 Fiji Health was having trouble disposing of the clinical waste in the four main hospitals in Fiji: Nadi, Taveuni, Savusavu and Nabouwalu hospitals.
They had old incinerators that no longer worked. Infected clinical waste – which should be incinerated very quickly after use – was starting to build up.
And it was causing major health issues.
So Fiji Health asked SpillPro for a means of eradicating the stored contaminated clinical waste in their hospitals. 
We solved their dilemma with a SpillPro Mediburn. 
Find out more
To talk to us about the right solution for you, email us or phone 1800 368 450.
Must Read
SpillPro on 25 October 2023
Consistent maintenance of your spill kit guarantees its readiness for immediate use. Discover more. ...
Read more
SpillPro on 24 October 2016
Here's how to keep your spill kit functioning as it should with regular maintenance ...
Read more