Everything you need to know about spill control and spill kit training
Preventing spills is the number one goal to protect the environment from harmful hydrocarbon impacts. But, immediate response, efficient containment and clean up are vital if a spill does occur.
Unfortunately, even though many companies buy the right equipment, they fail to train their employees on how to use it safely and effectively.
To enquire about training by a SpillPro spill control and equipment expert, call us on 1800 368 450 or contact us here.
Why do you need spill control and spill kit training?
1. It's the law
Businesses are required to take all reasonable steps to prevent and prepare for oil spills by the Work Health and Safety Act 2011. In a court of law, a judge will determine whether company representatives are knowledgeable about workplace spills, understand the risks of their operation, have supplied spill response resources and developed processes for spill response.
The provision of spill kits and training in how to use them fulfils the legal obligation of business owners and representatives. SpillPro issues certification for spill kit training to prove compliance.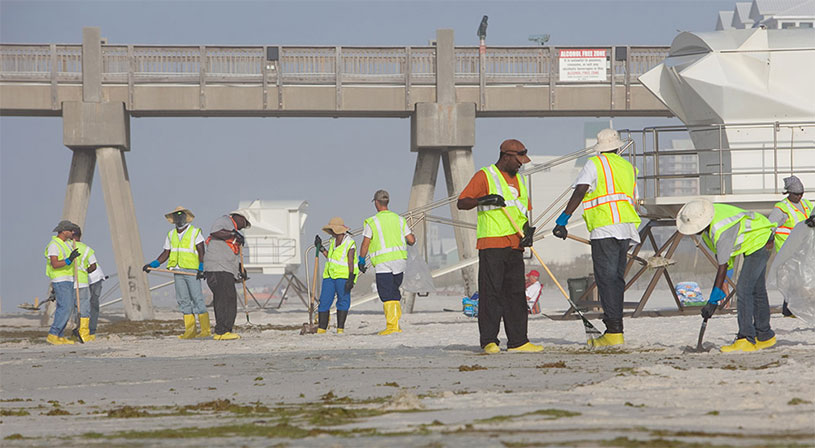 2. It keeps people safe
Untrained people use equipment incorrectly, which inevitably leads to injuries and workplace infringements. In the high-pressure situation of an oil spill response, the risks of injury are even higher. Employees become flustered when they can't stop the spill as quickly as they hoped. They may use force or try to manhandle equipment beyond its design.
Trained people know how to use the equipment and how to efficiently contain a spill.
3. It limits environmental consequences
The longer a spill remains uncontained, the further it will spread and the more severe the consequences will be. This is particularly important when the spill occurs near water. Oil spreads on water over a large area, leaving a thin film of hydrocarbon on the surface everywhere it reaches.
Spill control and spill kit training prepares employees for spill response. Their prompt actions will contain and clean up spills with the minimum environmental consequences.
What does spill control and spill kit training cover?
A basic SpillPro spill control and spill kit training course covers two main aspects:
1. The contents of a spill kit
The contents of a spill kit are explained and demonstrated so that employees know what each piece of equipment is for and how to use it. Absorbents come in the form of socks, rolls, pads, booms and pillows. SpillPro advises the most appropriate absorbent for your business risks. Floor sweep absorbents are used to clean up a spill once it is contained. Each spill kit also contains Personal Protective Equipment (PPE) for use while responding to a spill. Training covers the PPE along with the equipment.
2. How to respond to a spill
Employees are trained to respond to a spill using the equipment. First contain a spill with a boom or roll and then use floor sweep absorbents to clean it up. Getting the order wrong can lead to a spill area becoming larger than it should.
Spill control and spill kit training equips employees to use spill kit equipment effectively and safely.
Can spill control and spill kit training be customised for my industry?
SpillPro supplies different spill kits for different applications.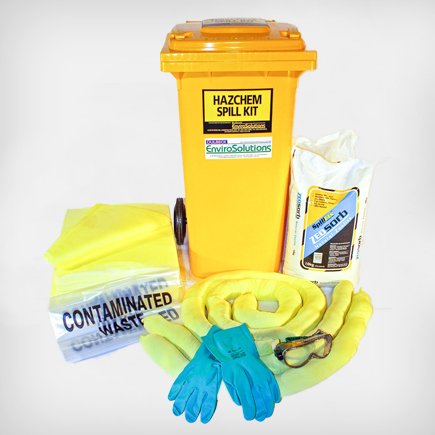 These standard kits contain the specific spill control equipment relevant to their application. With a consultation, we can also customise a spill kit specific to your needs.
SpillPro also provides consultant and advisory services as part of our training. The first step in an effective spill control program is to identify the risks associated with the business operation. We customise spill kits to provide the correct equipment for each risk in its location.
For example, workshops deal with large quantities of oil and the transfer of oil. Spill kits carry absorbents for oil and training covers the hazards of oil spills, including the risk of fire.
On the other hand, hospitals deal with hazardous chemicals for sterilisation and other purposes. A Hazchem spill kit equipped with the appropriate absorbent is critical to protect patients and staff. Training covers bagging of absorbent material and appropriate disposal.
Contact SpillPro for more information about spill control and spill kit training
SpillPro has extensive experience in spill control and spill kit training. Our technical experts can conduct a risk assessment in your business and customise the training for your needs.
Call our expert team on 1800 368 450 today to discuss spill control and spill kit training for your business.
Must Read
SpillPro on 25 August 2016
Here's how to keep your spill kit functioning as it should with regular maintenance ...
Read more
SpillPro on 2 May 2016
Sometimes transporting medical waste from remote sites is cost-prohibitive. Here's how to eliminate that problem by disposing of it on site ...
Read more