How do you really test Oil Skimmer Capacities?
To understand the capacity of an oil skimmer, we must look further than the rating of the offtake pump.
International standards to measure Oil Recovery Rate and Recovery Efficiency help us to compare oil skimmers and select the right equipment for our application.
Oil skimmers should be tested by independent bodies to give users confidence in their rated capacity.
Do you really know the capacity of your oil skimmer?
A standard response to this question from most users would be an answer in the range 35 to 50 m3/h depending on the capacity of the offload pump. But what does this actually mean? Although an offload pump capacity may well be in this range, this does not give a clear indication of the performance of an oil skimmer. In fact, it could be very misleading.
The pump's capacity is not an indication of the rate at which a skimmer can remove oil from the water surface, nor what percentage of oil the skimmer will be able to remove from the water. A more standardised method is needed to rate oil skimmers so that different equipment can be compared with each other and to give customers confidence in the rated capacity of the oil skimmers they are purchasing. 
Is there a standard test to determine the capacity of oil skimmers?
The American Society for Testing and Materials (ASTM) is the international organisation responsible for developing standards and procedures to measure a diverse range of products and equipment.
ASTM has developed a standard test for oil skimmers called F-2709-08. Testing is conducted under ideal conditions, meaning that the result of the test is the maximum capacity of the oil skimmer. The physical conditions where the skimmer is used could reduce the actual performance in the field.
There are two primary measures of oil skimmer capacity calculated through ASTM F-209-08:
Oil Recovery Rate is the measure of the volume of oil recovered over time and is reported in grams per minute (gpm).
Recovery Efficiency is a measure of the volume of oil recovered as a fraction of the total volume processed and is reported as a percentage.
Longer-term tests can also be carried out to determine the loss in efficiency over time for skimmers in continuous use.
Why should oil skimmers be tested by an independent body?
Independent bodies have no vested interest in the products or equipment being tested. They provide assurance to customers and regulators alike that testing and reporting of equipment performance is true and unbiased. In fact, the United States Coast Guard (USCG) will reduce the rated capacity of an oil skimmer by a significant margin if it is not independently verified when calculating the estimated daily recovery rate.[1]
The historical practice of quoting oil skimmer capacity as equivalent to the offload pump capacity has led to uncertainty in the market regarding actual skimmer performance. This uncertainty can only be overcome through verifiable, independent testing authorities.
Who is Ohmsett and what role do they play in oil skimmer testing?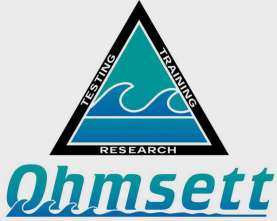 Ohmsett is the National Oil Spill Response Research and Renewable Energy Test Facility located at the Naval Weapons Station Earle Waterfront in Leonardo, New Jersey. Their above ground test tank measures 203 m long by 20 m wide and 2.4 m deep.
The facility has been developed to test equipment and conduct research in a controlled environment that can be used to mimic real life conditions. Wave generators, a towing bridge and oil distribution and recovery systems can put any manufacturer's equipment to the test, while state of the art laboratories conduct tests on oil and water to measure the performance.
Ohmsett had been shut down due to waning support for the operational and maintenance costs, but the Exxon Valdez disaster in 1986 led to the reopening of the facility. A renewed focus on the development of oil spill technology followed, including the establishment of standards for oil spill skimmers. The facility operates under the jurisdiction of the Bureau of Safety and Environmental Enforcement and forms a critical component of development and enforcement of environmental policies.
More information about Oil Spill Skimmers
Want to find out more about oil skimmers and how to test their capacity? Or would you like additional information about different kinds of oil skimmers and where they should be used?
At SpillPro, we are the experts in oil spill skimmers of all types. We can answer any queries you may have.
Learn more at SpillPro industrial spill equipment online or call us on 1800 368 450.
Must Read
SpillPro on 25 August 2016
Here's how to keep your spill kit functioning as it should with regular maintenance ...
Read more
SpillPro on 2 May 2016
Sometimes transporting medical waste from remote sites is cost-prohibitive. Here's how to eliminate that problem by disposing of it on site ...
Read more