How spill containment regulation in NSW affect you
NSW has strict laws aimed at preventing pollution from storage and handling of any liquid that has the potential to harm the environment. Two of the primary pieces of legislation in this regard are the Protection of the Environment Operations Act and the Contaminated Land Management Act. These laws are enforced by the Department of Environment and Climate Change NSW and local councils.
Penalties for lack of compliance
The DECC and local councils have the power to issue notices and fines for failure to comply with legislation. These authorities appoint authorised officers who enter sites to conduct audits by appointment and also unannounced.
On the spot fines for water or land pollution are set at $750 for individuals and $1,500 for corporations. When it comes to Tier 1 offences under the POEO Act, the penalties are much more severe. Leaks, spillages and other escapes deemed caused by negligence attract a $500,000 fine and or 4 years in gaol for individuals or $2,000,000 for corporations.
Lack of knowledge of the regulations is not a valid defence argument, but it is possible to put forward a case for due diligence. This means that all possible practical measures were taken, and operations managed responsibly to prevent pollution.
There are three main steps to demonstrate due diligence when it comes to spills and leaks:
1. Train your people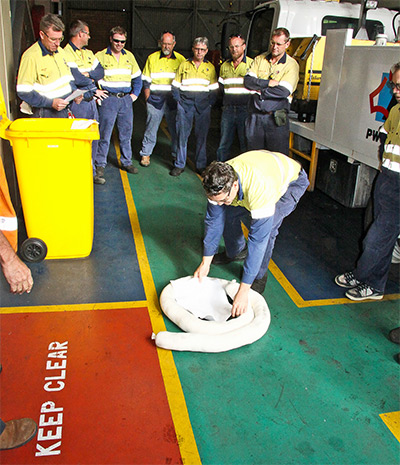 Personnel training is a critical part of demonstrating due diligence in preventing pollution. Training should cover the risks you have on site, drainage facilities, the measures to prevent pollution and how to respond to a spill.
2. Implement equipment and structures to prevent spills from escaping to the environment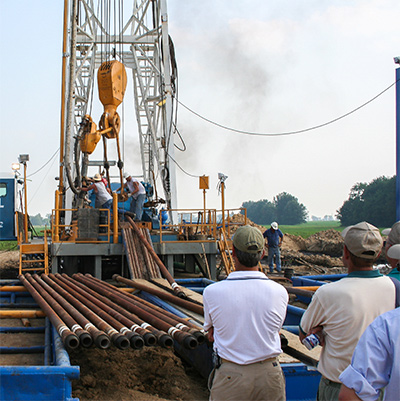 Risk assessments are helpful tools to analyse potential spill sources, their likelihood of occurring and the severity of the consequences. A risk factor for each scenario can be calculated as a product of the likelihood and the severity. Once a comprehensive list of risks for the site has been collated, preventive measures can be determined and prioritised.
Typical preventive measures include the installation of secondary containment, placement of spill kits, training of staff and even relocating an activity from one part of the site to another.
3. Ensure rainwater does not carry pollutants away from your site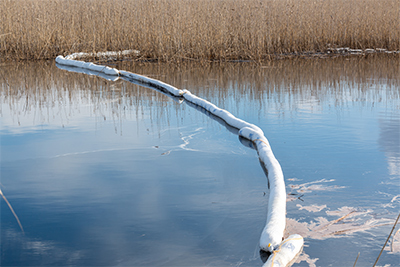 Site planning plays an important role to keep pollutants away from rain water. Segregate the storage and handling areas from open stormwater areas at all times. Keep chemicals and oils inside buildings where spills can be contained or else create permanent or temporary bunded areas.
Once site planning is complete, site management becomes essential. This includes inspections of containers and secondary containment. Every new procedure or activity should be accompanied by an appropriate environmental review to ensure no new risks are being introduced. A regular review of the management system could also focus on continuous improvement.
One of the primary methods of controlling spills during delivery, dispatch, transfer and decanting is the use of secondary containment. These systems capture spills and contain them before they escape to the environment giving personnel time to respond and clean the spill.
SpillPro secondary containment solutions
SpillPro supplies products and services for secondary containment and spill response. Our solutions help you keep compliant with regulations and demonstrate a due diligence to prevent pollution. Some of SpillPro's secondary containment solutions are as follows:
Incident management and spill response
Regulators require a well-defined process for responding to spills. All the required response equipment should be readily available and employees well-trained in what to do. A spill is not only an environmental risk but also carries safety risks. Employees should have access to appropriate PPE and understand the hazards associated with the products used on site.
The best way to prepare for a spill is to develop and incident management plan. This should include site drawings, contact information for key personnel as well as procedures to follow in the case of a spill.
Contact SpillPro
NSW has strict pollution laws and enforcement placing an onus on companies to protect the environment and perform due diligence in managing their operations. SpillPro has more than 40-years experience in helping our clients to achieve these goals. Our products and services help you maintain compliance and avoid steep penalties and fines.
Find out more here or call our expert team on 1800 368 450 today.
Must Read
SpillPro on 25 August 2016
Here's how to keep your spill kit functioning as it should with regular maintenance ...
Read more
SpillPro on 2 May 2016
Sometimes transporting medical waste from remote sites is cost-prohibitive. Here's how to eliminate that problem by disposing of it on site ...
Read more