Environmental incidents often happen at inconvenient moments and in inconvenient locations. When spills happen in remote areas or on pipelines, it's not always possible to reach the spill site with skimmers or vacuum trucks. Some spills contain solids and liquids or even sludge, which is not easy to clean up with traditional spill response equipment.
A more nimble and versatile spill clean-up solution is needed. This is what vacuum systems are used for.
If you need advice on an adaptable spill containment solution, contact SpillPro on 1800 368 450 or contact us here.
How does a vacuum system clean spills?
As the name suggests, the heart of a vacuum system is a high-powered vacuum pump. This pump creates a large movement of air that creates a suction. Solids, liquids and sludge are drawn into hoses by this vacuum before being discharged into a tank or drums. The system is designed to accommodate solids up to 50 mm in diameter.
Vacuum systems are very versatile. They can be used with oil skimmers to suck oil from a spill in water. They also come with a water tank and high-pressure water equipment to spray down an area where the spill has dried onto a tank or concrete surface.
How do you use a vacuum system?
The beauty of vacuum systems is their ease of use. Bigger units can be towed, while smaller models can be carried inside a utility vehicle. Vacuum pumps are diesel or gasoline driven so the systems have no need for electrical power supply. Hoses connect the system together so that the suctioned material is discharged into a tank.
SpillPro provides training and commissioning support to clients as needed. Maintenance of the system is also straightforward. Only seals and filters need to be replaced periodically.
What vacuum system models are there?
PACS1000 Trailer Mounted Vacuum System
This large vacuum system is ideal for major spills and large volume clean-up operations. Pumps or blowers from 6.5 to 22 cubic meters per minute are available and engine options up to 48 hp. The entire system is DOT approved for highway towing, with hydraulic surge breaks on all 4 wheels.
It also fits inside a high cube container for storage or long-distance relocation. The tank tilts hydraulically to 45° for ease of emptying and cleaning. Trailer-mounted vacuum systems are cheaper than using vacuum trucks for cleaning spills.
MiniVac II Portable Industrial Vacuum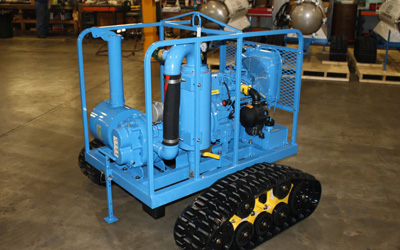 This high-powered vacuum system offers unique mobility options like the fact that it can go places which would be completely inaccessible to vacuum trucks. There is no integrated tank, so materials are discharged into drums or a dedicated hopper device. The DrumIt head shuts off suction when the drum is full to prevent overfilling.
In addition, the portable vacuum unit is removable from its chassis, which enables loading onto a truck. The vacuum blower has a rating of 9 cubic meters per minute and the drive is 20 hp.
DrumIt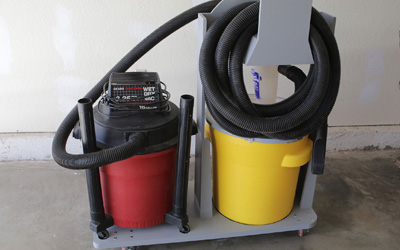 DrumIt is a vacuum head used for filling drums with an automatic shut off device. A vacuum relief valve provides control over the strength of the suction. It fits onto a standard 55-gallon drum and can be used with any vacuum system or truck.
All Terrain Vacuum Tank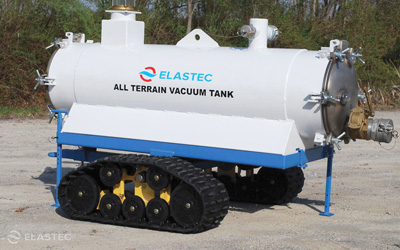 This system can be used with the MiniVac, All Terrain Vac or other vacuum pumps. It gives the ability to contain the recovered material for disposal and its main advantage is the option to fit off-road tires or even tracks to tackle severe terrain.
The All Terrain Vacuum Tank has the capacity to hold 416-liters of material with full opening doors on both ends. Safety features include automatic shut off with a bypass control valve.
All Terrain Vac
This portable vacuum system is similar to the MiniVac II, with extra features for off road capability. It can be fitted with off-road tires or tracks when difficult accessibility to the site is a factor.
Compare the five, download brochures, and get more information on our vaccum system page.
Where have vacuum systems been used for spill clean-up?
Vacuum systems have been used to clean spills on beaches. They are ideally suited to sucking up spills, along with some sand, without causing damage to the equipment. The off-road versions easily handle driving across soft sand.
A Power Station in Queensland uses the PACS1000 system to clean sumps and drains. The nature of their operation means that coal pieces and fly ash may be present – liquid only suction systems would not be able to handle this material. Using a fine air filter ensures that all spilled fly ash from the coal burning process is recovered from the air.
Vacuum systems are compatible with oil skimmers. This means that they can be used to clean oil spills from any liquid surface. Industries that have ponds or dams can benefit from having a vacuum system ready to clean spills as and when they happen.
Contact SpillPro for more information about vacuum systems
SpillPro supplies a range of vacuum systems suitable for a wide range of industries and applications. Our experts can advise you on the best solution for your specific industry and facility. Get the best advice about vacuum systems from the SpillPro team.
Find out more about vacuum systems here, or call our expert team on 1800 368 450 today.
Must Read
SpillPro on 25 August 2016
Here's how to keep your spill kit functioning as it should with regular maintenance ...
Read more
SpillPro on 2 May 2016
Sometimes transporting medical waste from remote sites is cost-prohibitive. Here's how to eliminate that problem by disposing of it on site ...
Read more