Servicing your industrial parts cleaning machine
In the dense market of auto and smash repair, customer service is essential - and quality service is often measured by timeliness and the quality of the repair.
For a repair to be completed on time and at a high standard, every stage needs to operate smoothly and efficiently. There's no room for equipment downtime or interruptions to the flow of work.
This is where industrial parts cleaning machines come in. They are an integral part of an auto or smash repair workshop. However, if they are not properly maintained and serviced, they have the potential to fail causing delays and impacting repair quality.
How often should you service your industrial parts cleaning machine?
There are different types of industrial parts cleaning machine and each one is exposed to a different level of wear and tear.
Hot spray wash machines use high pressure cleaning with detergents to clean oil and grease from auto parts. They are exposed to the accumulation of dirt and hydrocarbon waste. These machines also turn the basket during operation to expose the parts to cleaning from all sides. Continuous heavy loads may cause the turning mechanism to wear.
Fluid based parts cleaning machines are manually operated. Cleaning solution pumps through a cleaning brush to assist cleaning stubborn dirt and grease. Waste is filtered, and the cleaning solution is recycled. The number of parts washed, and the level of dirt removed will dictate the servicing cycle for these machines.
Repair shop machines either blast rust from small parts or clean spray paint equipment for re-use. Each of these functions generate waste and the amount and type of waste affect the required service frequency for repair shop machines.
Service frequencies are normally set in consultation between clients and SpillPro based on an understanding of the machine itself and the operating environment.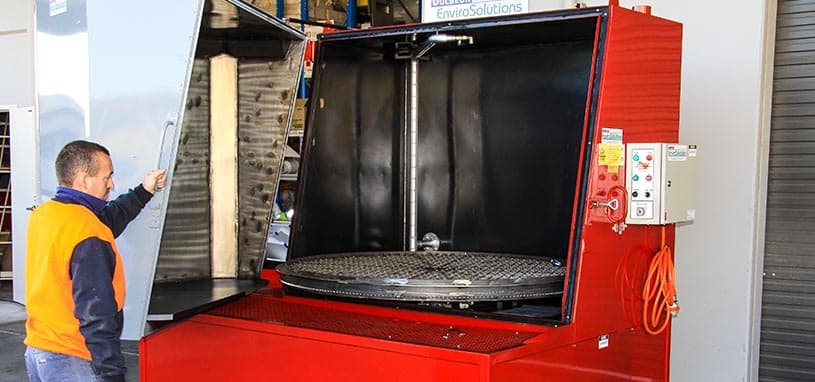 What are the typical service tasks?
A parts cleaning machine service is a simple operation, which can be executed by following these steps:
1. Check the operation of the machine. Is each component working as it should? (e.g. Does the basket turn? Is there a normal flow of cleaning solution from the nozzles? Etc.)
2. Clean the machine. These machines are exposed to the oil and grease residue. They must be cleaned to prevent corrosion and to prevent a build-up of waste inside the machine itself which will eventually impair its operation.
3. Remove waste from the machine. Each machine has filters and waste collection containers. These must be thoroughly cleaned to ensure long lasting operation.
4. Add new cleaning solution.
5. Recommission machine and check operation again.
What can go wrong if you don't service your machine? 
Over time you will experience a noticeable reduction in the effectiveness of the machine. Parts will emerge with stubborn traces of dirt, oil and grease still ingrained on their surface.
Just like a car, your industrial parts cleaning machine's performance will steadily deteriorate and ultimately fail without servicing.
Equipment failure is bad news for any auto and smash repair shop. The expense to repair a failed machine is much higher than the costs of regular servicing and the interruption in work flow will lead to unhappy customers.
What are the warning signs that your machine needs maintenance?
It is important to monitor the performance of your industrial parts cleaning machine in between services to pick up warning signs before they become major problems. Here are some potential problems to look for:
Hot spray wash machine basket stops turning.
Water does not heat up
Water stops flowing
Fluid based parts cleaning machine stops draining
If you experience any of these symptoms with your SpillPro industrial parts cleaning machine, contact our service department for assistance.
Contact SpillPro for more information about parts cleaning
SpillPro supplies equipment and services for auto and repair parts cleaning. We supply industrial parts cleaning machines on a rental contract to keep your shop operational at all times. Our maintenance services give you peace of mind that your auto and repair shop will get the support you need to keep you online.
Our expert team at SpillPro will answer all your maintenance questions. Call 1800 368 450 today.
Must Read
SpillPro on 25 August 2016
Here's how to keep your spill kit functioning as it should with regular maintenance ...
Read more
SpillPro on 2 May 2016
Sometimes transporting medical waste from remote sites is cost-prohibitive. Here's how to eliminate that problem by disposing of it on site ...
Read more