Drums and Intermediate Bulk Containers (IBC) are typically used to transport and store chemicals, oils, and fuel. Both suppliers and customers handle large numbers of these containers daily. However, the robust nature of industrial sites and mining operations expose drums and IBCs to knocks. Corrosion is another potential cause of container failure as well as human error.
Spill pallets are the safety net for drum and IBC failures. They capture the spilled material before it can reach the environment. There are a number of different models of spill pallets. But, which one do you use, where, and how much do spill pallets cost?
Spill pallet prices
| Spill pallet type | Use | Price |
| --- | --- | --- |
| Single IBC unit | Indoor or undercover | $1,995 |
| Double IBC unit | Indoor or undercover | $2,100 |
| Two drum pallet | Indoor or outdoor | $449 |
| Four drum pallet | Indoor or outdoor | $499 |
Turnaround and delivery
SpillPro carries sufficient stock to offer quick turnaround time to most locations. We use shipping agents to deliver our spill pallets anywhere in Australia and the South Pacific region. Freight and shipping costs vary depending on customer location and ease of accessibility. Quotes can be obtained during the process of finalising orders.
Product Materials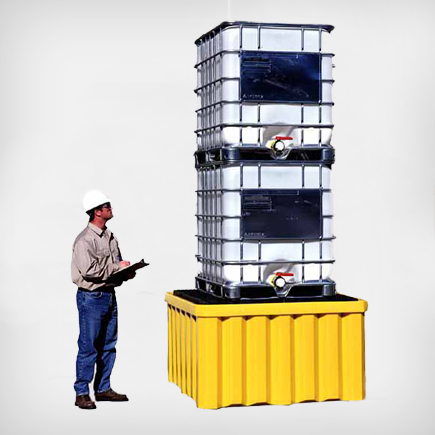 Spill pallets are made from a heavy-duty Polyethylene base. This robust material resists chemical attack. It does not easily crack, even when knocked or manhandled. The grating of spill pallets is made of fibreglass material. This grating provides excellent chemical resistance, as well as the strength needed for the primary container load.
Hard covers for outdoor IBC pallets are made from High-Density Polyethylene (HDPE). They offer weather protection and security against theft or vandalism. The hardcover pallet is designed to be lockable for access control.
SpillPro offers a two-year warranty on our spill pallets against defects in material and workmanship.
Accessories
PVC soft covers are available to protect IBCs, drums and pallets from adverse weather conditions. This will prolong the life of the primary containers and delay the onset of corrosion. They also prevent excess rainwater from building up inside the spill pallet. A water level in the pallet base will take up space intended for spilled product. This could result in an environmental incident if the spill pallet overflows.
Compliance with workshop and OH&S standards
When purchasing a spill pallet, one of the key criteria to look out for is compliance with regulatory requirements. The spill capacity of the pallet must be at least 110% of the volume of the largest container stored on it. SpillPro two drum pallets (205-litre drums) have a containment volume of 230 litres.
This fully complies with workshop and OH&S standards. IBC pallets must be able to contain the full volume of the IBC in case of catastrophic failure.
Buying cheaper non-compliant pallets may seem like it will save money in the short term. But, if they overflow, they will cause an environmental incident and possible fines will be incurred as they do not meet the standards of responsible care. They are also not as robust as SpillPro pallets and could fail in harsh operating environments.
Applicable Industries
Spill pallets are ideal for industries where drums or IBCs of chemicals, oils and fuels are used.
This includes mining and exploration sites where facilities are remote and sensitive natural environments must be protected. Refueling, constantly moving drums, dispensing materials and collecting waste. All of these activities have the risk of primary container failure and an associated spill.
Warehousing areas are a prime application for spill pallets. Primary containers ready for dispatch are safely held on spill pallets after being moved out of a warehouse area.
Contact SpillPro for more information about spill pallets
SpillPro supplies a range of spill pallets designed to contain spills from a failure in their primary container. Our experts can advise you on the best solution for your specific industry and facility. Backed by 40 years of experience in the industry and an international supply chain, SpillPro keeps you compliant and gives you peace of mind.
Find out more about our spill pallets here or call our expert team on 1800 368 450 today.
Must Read
SpillPro on 25 August 2016
Here's how to keep your spill kit functioning as it should with regular maintenance ...
Read more
SpillPro on 2 May 2016
Sometimes transporting medical waste from remote sites is cost-prohibitive. Here's how to eliminate that problem by disposing of it on site ...
Read more