SpillPro announce new trash boat supplier
Following a global search for a new work boat supplier, SpillPro is proud to announce its partnership with Water Witch.
Based in Liverpool, UK, Water Witch's rich history and wide range of high-quality trash boat products earned them the contract as SpillPro's exclusive work boat supplier.

The new partnership means Australian customers will have access to Water Witch's world-class trash boat range for the first time. SpillPro's manager of oil spill equipment and incinerators, Brett Lee, says: "the waste collection boats they (Water Witch) manufacture, I think are the best in the world and will fit a need in Australian ports where rubbish in the water is a real problem.
"These boats can effortlessly collect all rubbish and debris and mechanically place in a skip to be collected and taken away."
Fifty years of expertise
Founded in 1966 as a family business, Water Witch have since established themselves as one of the UK's premier suppliers of waterway maintenance and pollution-control boats. Their first prototypes were so successful that they quickly sold vessels to the Royal Navy, the Port of Baltimore and New York Port Authority.
Fifty years on, Water Witch remain a family-run business committed to solving the ongoing challenge of waterway pollution. Their range has grown to include a wealth of road-transportable pollution-control workboats and efficient waste transfer and storage barges - with more than 200 vessels in operation world-wide.
In a statement, Water Witch director Jackie Caddick said:
"We have continued to develop our range of vessels to meet the growing global need to clean waterways of trash and debris - the amount of which has increased hugely over the last 20 years due to the amount of plastics and other non-degradable consumer products now in use.
"Plastic is one of the most pervasive pollution problems in water and it never actually degrades, it simply ultimately ends up as microplastics which can ultimately end up in our food chain. Its durability has resulted in the accumulation and wide dispersal in our marine environment.
"Marine debris not only looks unsightly, it also causes economic, social and environmental damage. Plastics such as bottles, bags, styrofoam and coffee cups are the most common items and have a very serious and harmful impact on marine wildlife, habitats and safety."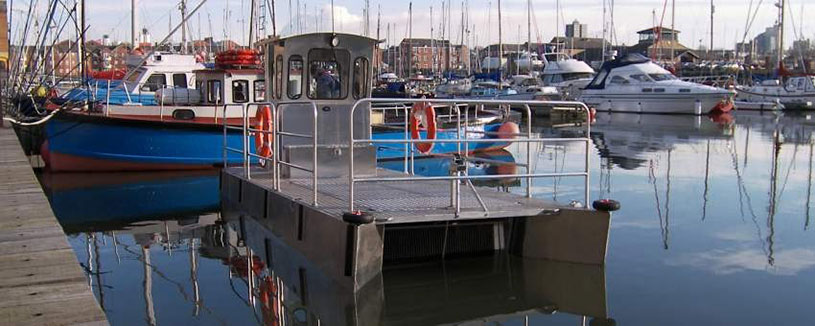 Trash boats for marine spill clean-up and trash collection
Thanks to the combining of Water Witch's expertise in trash collection trash boat technology with SpillPro's marine clean-up experience, Australian customers can look forward to a single point of contact for cleaner marine environments. It means a multitude of benefits for SpillPro's clients, including a streamlined delivery process and more comprehensive product support.
According to Brett Lee, the market is ready for a supplier that can offer workboats for marine spill cleanup and trash collection:
"We (SpillPro) have already worked with the major ports in Australia to assist them with their oil spill requirements and this will be another problem we will be able to solve for them - making us a one-stop shop to ensure their waters are clean and unpolluted.
"Speaking to Jackie Caddick from Water Witch, I have found that the company is very professional and very open with their knowledge - so working with them will be most enjoyable. They have also got years of experience in this field and will make my job of marketing these boats very simple."
"This will certainly assist our clients with pricing and faster delivery times."
In their statement, Water Witch also indicated a sharing of trash boat knowledge and resources with SpillPro will benefit Australian customers:
"All our vessels, which range from 5.0m to 9.0m LOA, are designed to undertake a range of duties in addition to waterway cleanup, and our new partners, SpillPro, will bring their expertise in oil spill response and emergency applications."
Thanks to the new partnership between SpillPro and Water Witch, Australian ports will benefit from cleaner, safer, more easily navigable waters.
For a quote on trash boats for marine spill clean-up or trash collection, call SpillPro on 1800 368 450.
Must Read
SpillPro on 25 August 2016
Here's how to keep your spill kit functioning as it should with regular maintenance ...
Read more
SpillPro on 2 May 2016
Sometimes transporting medical waste from remote sites is cost-prohibitive. Here's how to eliminate that problem by disposing of it on site ...
Read more