Trash and debris booms help in your duty of environmental care
As residents of planet earth, we all carry some responsibility towards the care of the environment that sustains us. Some business activities require specific Environmental Authority (EA) issued by the Environmental Protection Agency (EPA). But, there are also general duties of environmental care that apply to every citizen and every company.
The EPA describes these general duties as:
The duty to take measures to prevent environmental harm before carrying out any activity.
The duty to inform landowners and authorities when environmental harm has occurred or can occur.
It is important to note that the EPA has the authority to issue penalty infringement notices on companies or individuals who fail to fulfil their duty of environmental care. In extremely serious cases, you may even end up in court.
How can trash and debris booms help you fulfil your duty of environmental care?
Trash and debris booms are a type of containment boom. Their job is to remove floating waste from the surface of water.
Trash consisting of plastics and other man-made materials cause great harm to the environment. Fish, turtles and other water animals get caught in the trash making it impossible for them to swim. They also ingest these foreign materials, which may cause internal damage.
Floating debris includes objects like tree branches. These have the potential to block up waterways, therefore causing flooding problems in some areas and stagnation in others. Construction activities that remove natural vegetation contribute to generating debris.
Companies that generate trash and debris can make use of booms to protect the environment and fulfil their duty of care.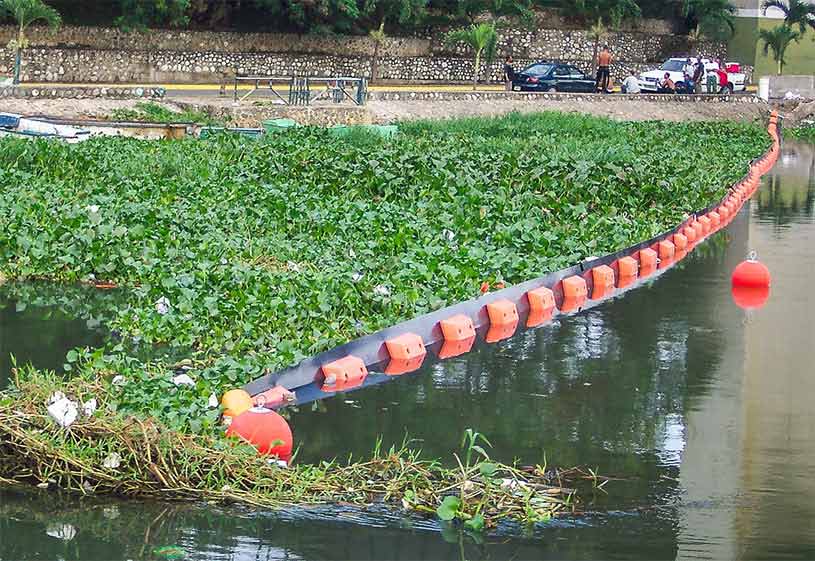 Case studies of the use of trash and debris booms
Sydney harbour, with its iconic Opera House and sapphire water, is protected by a Permafence permanent fence boom. This boom controls the floating waste in the bay by capturing the debris carried towards the harbour on the Parramatta River.
The debris caught in the boom is then removed for disposal. New South Wales (NSW) Maritime fulfil their duty of environmental care by using the boom to protect the 600 species of fish and to maintain a tourist paradise.
Some studies have been done to determine the effectiveness of trash and debris booms to protect waterways from polluted storm water run-off. Litter and uncontrolled trash distributed across open areas get swept up in storms and enter the sewer network.
Simulations show that a correctly designed and placed boom is very effective to capture waste before it enters sensitive environments. These studies can help municipal authorities to implement systems that protect their waterways using trash and debris booms.
National Geographic reports on a system at Baltimore Harbour in the USA, where innovators have found a way to use containment booms to push floating debris towards a water wheel which then removes it from the water. Seventy to a hundred tonnes of garbage are collected each year from this innovative system.
The system's inventor is John Kellet, who says, "it's a common misconception that most trash comes from people chucking things directly into the water. Instead, it comes from litter thrown out of cars, illegal dumping, and cigarettes left on the ground. When it rains, all that junk ends up in the watershed, where some of it eventually makes its way down to the harbor."
General tips to help you fulfil your duty of environmental care
Business Queensland has listed these helpful tips to help companies fulfil their duty of care to prevent harm to the environment:
Identify the nature and the severity of the potential harm to the environment.
Evaluate how sensitive the environment is: Is there a wetland or protected area nearby?
Investigate best practices for the activity.
Explore whether new technologies may reduce environmental impacts.
Test the effectiveness of the proposed environmental solutions: Do they adequately reduce or minimise the impact of your activities on the environment?
Consider the financial implications of the preventative measures: Will the measures cause the project to become unviable?
Marina and port authorities are under increasing pressure to remove trash from harbours. SpillPro also supplies trash boats to clean up trash that has found its way into the harbour area.
SpillPro has extensive experience in containment booms like trash and debris booms. Our trained technical experts can support you to supply and operate booms as well as train your staff. Find out more here.
Call our expert team on 1800 368 450 today to discuss the trash and debris boom solution for your business.
Must Read
SpillPro on 25 August 2016
Here's how to keep your spill kit functioning as it should with regular maintenance ...
Read more
SpillPro on 2 May 2016
Sometimes transporting medical waste from remote sites is cost-prohibitive. Here's how to eliminate that problem by disposing of it on site ...
Read more