When do I need a general spill kit?
Spills can happen at any time when oil or water-based chemicals are being stored, used, or transported.
In West Melbourne, an incident occurred when a truck driver who was leaving a terminal area hit a bollard which ruptured the fuel tank. The driver chose to continue out of the terminal area, even though diesel was spilling from the vehicle, and this lead to the contamination of a nearby storm water drain.
The Environmental Protection Authority (EPA) Victoria fined the driver over $1,800 for abandoning industrial waste at a site not licensed to accept it. Ironically enough, a spill kit was stationed near to the bollard which the truck had hit.
This incident highlights not only the need for spill kits, but the importance of using them (and educating people about how to do so effectively).
When should I use a general spills kit?
You can use general spill kits to clean up hydrocarbon and water-based product spills (e.g. coolants). Mines, mining support companies, as well as light and heavy industries all use general spill kits.
Other users include marinas, general workshops, and automotive repair centres that need to ensure the right cleaning materials are available in the event of a spill.
You can also use general spill kits for cleaning up blood or bodily fluids in medical facilities. Plus, they contain absorbent materials suitable for spills in restaurants, commercial buildings, and warehouses.
When can't I use a general spill kit?
While general spill kits are very effective for hydrocarbon and water-based product spills, they are not suitable for hazardous chemicals, strong acids, or bases. These chemicals require an absorbent material other than hydrocarbon or water-based products. In addition, these hazardous chemicals require a different set of personal protective equipment (PPE) in order to manage spills. Always remember to use the correct safety equipment when approaching a chemical spill.
It is important to train employees to respond to various hazards on site as well as teach them about what spill kits are available. Well-trained employees know what to do to clean up a spill safely and effectively. Untrained employees have the potential to worsen a situation by using the wrong absorbent material, and they could injure themselves by using the wrong PPE for the task at hand.
Training for general spill kits
Placing general spill kits close to potential spill sources is the first step to cleaning spills efficiently. The second step is training employees to ensure that they take the right actions to mitigate environmental impacts, as the initial response to a spill is critical for preventing the spill from spreading further.
SpillPro offers spill response training and certification in a seven-step spill response program. This training helps employees to identify the equipment contained in the spill response kit as well as understand how to use it.
To teach employees how to isolate the source of the spill and contain it, instructors demonstrate using socks, rolls, or booms. Training also includes information about spreading absorbent materials over the spill (waste absorbent is easy to clean up and place in disposal bags).
Training also covers the use of PPE supplied with the general spill kit.
Being properly equipped with general spill kits and having trained employees helps to guaranteed that spills are cleaned up as soon as possible and with minimum impact to the environment.
Benefits of general spill kits
When the EPA investigates a spill incident and its impact on the environment, one of the criteria they use is due diligence. This is an assessment of whether the company causing the spill has done every reasonable thing in their power to prevent spills from happening and to clean them up as quickly as possible when they occur.
Placing general spill kits close to potential spill sources is one way of demonstrating a proactive approach to hazardous spills. Training and certifying employees demonstrates a company's commitment to responding to spills and managing them diligently.
The EPA escalates fines against companies that cannot demonstrate this kind of due diligence in their environmental responsibility.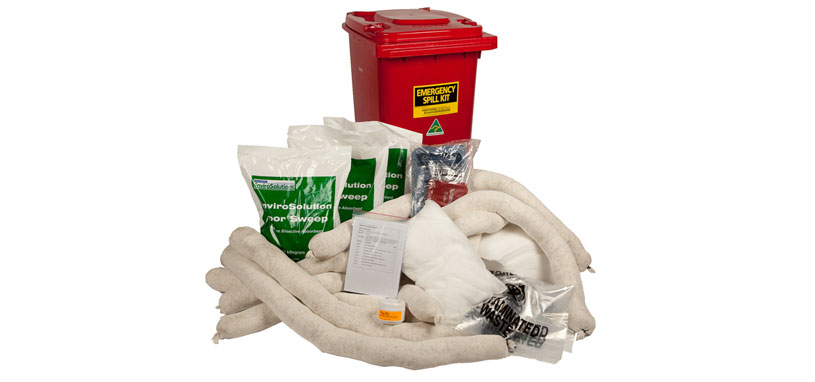 Contact SpillPro for more information about general spill kits
SpillPro has extensive experience in supplying products and services for cleaning oil spills. We supply general spill kits and train employees to respond to spills properly. SpillPro certifies the competence of employees who have passed through our training.
Find our more about general spill kits here, or call our expert team on 1800 368 450 today.
Must Read
SpillPro on 25 August 2016
Here's how to keep your spill kit functioning as it should with regular maintenance ...
Read more
SpillPro on 2 May 2016
Sometimes transporting medical waste from remote sites is cost-prohibitive. Here's how to eliminate that problem by disposing of it on site ...
Read more