Why Flood Barrier is a better option in flood events
The use of sandbags is time-consuming and highly intensive in terms of materials and personnel. One 15m x 65cm Flood Barrier can replace a wall of 960 sandbags, which need to be filled and positioned. It takes one person five minutes to roll out the 15m Flood Barrier, where it can take a crew of four people at least a day to cover the same area with sandbags.
Other than time and manpower, there are several drawbacks to using sandbags that don't apply to Flood Barrier:
Sandbags will not seal out water. 
Sandbags need to be removed and disposed of once the flood recedes.
Sandbags are not always an effective measure in the event of flooding because water will eventually seep through the bags and finer materials like clay and silica may leak out through the seams, which can cause further environmental impact.
SpillPro's Flood Barrier is a unique and effective temporary flood control system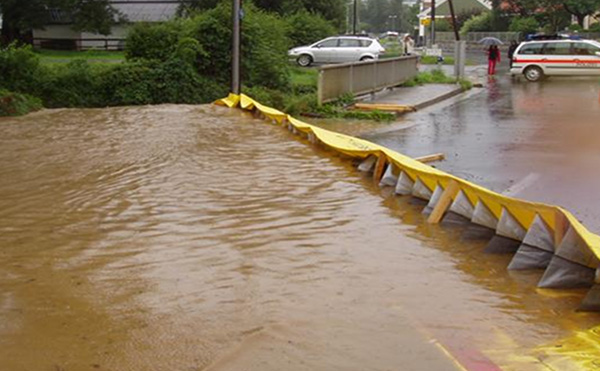 The Flood Barrier is ideal for many applications:
Naturally occurring floods
Deviating surface water during large rainfalls
Control and deviate water during fire fighting
Water Main breakages
The concept is simple: Water holds back water. The Flood Barrier's unique design, with integrated ballasting, allows water to enter the structure, expanding the material, which instantaneously stabilises the barrier. The barrier gets stronger as more water comes inside. Its design makes it impossible to overturn (ratio of 4 widths to 1 height) and is available in sizes up to 1.5m high.
The barrier is available in 15m lengths that can be joined together using double velcro to make an extremely strong join. The barriers can be pre-joined and deployed using a purpose-made crate that can be placed on a ute or tabletop truck.
The Flood Barriers are manufactured from heavy-duty PVC and high-density polyethylene, with ballast made of stainless steel plates. The material is resistant to many chemicals. Inter-lock stitch sewing is used with high-frequency PVC welding.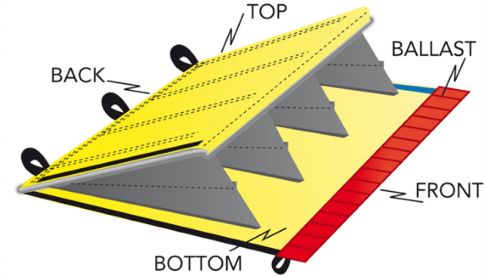 Rapid response
SpillPro's flood control units save valuable time during a flood. They're lightweight and easily transported, giving you the best chance possible of preventing water entering buildings.
Effective
SpillPro flood barriers are more effective than sandbags – one 15m x 65cm flood barrier is equivalent to 960 sandbags. They are also cheaper, easier to transport and easier to position.
Reliable
Robust, durable, and dependable, SpillPro only supplies flood barriers of the highest quality. So you'll have the peace of mind knowing you can handle even larger floods – time and again.
Contact SpillPro 
SpillPro entered the Australian spill and environmental control market more than 40 years ago. We offer products and services that make your job of handling chemicals and responding to spills easier. Our track record and experience in the industry makes us a trusted partner in the fight to protect our sensitive environment.
Find out more here or call our expert team on 1800 368 450 today.
Must Read
SpillPro on 25 August 2016
Here's how to keep your spill kit functioning as it should with regular maintenance ...
Read more
SpillPro on 2 May 2016
Sometimes transporting medical waste from remote sites is cost-prohibitive. Here's how to eliminate that problem by disposing of it on site ...
Read more