Your guide to smash repairs and automotive parts washers
The automotive and smash repair industry is a highly competitive environment. Keeping control of operational expenses is vital for profitability. But, customer satisfaction also plays a major role in company success. How do you maintain a high-quality service, while keeping costs under control?
At SpillPro, we can recommend and supply an automotive parts washer to suit your business needs.
Challenges of the auto and smash repair industry
Repairing a motor vehicle requires the best possible surface preparation for new paint coating. This is achieved using sand blasters that remove all the old paint, corrosion and other imperfections. However, motor vehicles consist of large body parts and very small components.
Traditional sand blasters are effective for large parts but cause a lot of wastage when sand blasting smaller components. Bigger sand blasting units also generate a lot of dust which affects the air quality for workers. 
Painting vehicles and vehicle parts is also a significant part of repairing a vehicle after an accident. This requires changing paint colours and cleaning the paint system between repairs. Cleaning spray paint guns and equipment must be done thoroughly to prevent contamination for the next job.
As important as cleaning is, it is not a core activity of the automotive and smash repair shop. These hours are not billable to a client and build up as an overhead cost for the business. Finding a cost saving cleaning process that is not labour intensive could help make an auto repair shop more competitive.
SpillPro industrial and automotive parts washers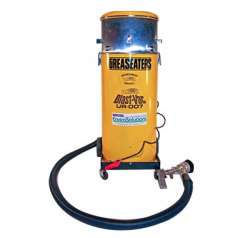 SpillPro supplies the automotive and smash repair industry with Blastvac machines. These high tech sandblasting machines are ideal for small motor vehicle components. Their unique design applies grit directly to the target area, minimising waste and ensuring a high-quality finish.
The sand blast grit is directed by a brush, which remains in contact with the blast surface at all times. Blastvac machines have a vacuum system, which draws the grit into the bottom of the machine for reuse. Air quality is also improved for workers due to the reduction in dust from the machine. All in all, the efficiency and lower wastage from Blastvac machines saves time and money for automotive and smash repair shops.
Another SpillPro product improving the competitiveness of automotive and smash repairers is the PaintEater machine. Cleaning spray guns and paint equipment takes significant labour time. It is important, but it doesn't generate any income. PaintEaters perform this task automatically so that technicians can focus on value adding work. Hot spray wash machines work like a home dishwasher. It is as simple as loading the machine and pressing the start button. PaintEater machines come with standard basket sizes from 650 mm to 1600 mm. We also offer custom built machines to match your specific application.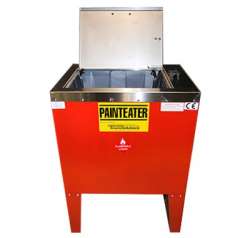 GreaseEater machines use solvents to remove oils, grease and hydrocarbons from engine and car parts. Cleaning solution recirculates through the supply drum minimising wastage. The automatic process uses a flow through brush and tube to clean the parts, which are placed on the tray.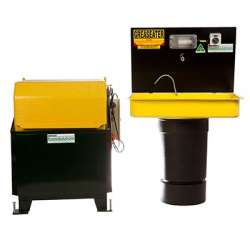 SpillPro lease terms for an industrial parts washer
Automotive and smash repair shops can lease Blastvac, PaintEater and GreaseEater machines on flexible terms. Both short term and long-term options are available to facilitate peak workflow needs.
We can work with you to determine your requirements. Our team proposes machine options based on this assessment, which includes a service plan. It is important to set a service and cleaning schedule based on the workload of the industrial parts washer and the degree of cleaning based on the operating conditions. Failure to do this may result in equipment failure and downtime.
Service technicians from SpillPro will visit the site at the predetermined interval to check the operation of the machine. The industrial or automotive parts washer will be cleaned, and waste removed. Technicians also execute repairs as required. Lease contracts include support for breakdowns and we replace machines if necessary.
Contact SpillPro for more information about your industrial parts washer
SpillPro supplies equipment and services for automotive and repair parts cleaning. Our goal is to make your shop more efficient and the reduce wastage. Using automated machines for cleaning releases technicians to perform more valuable work, thus making you more competitive. Our maintenance services give you peace of mind that your auto and repair shop will get the support you need to keep you online.
Find out more about our industrial and automotive parts washer options, or call our expert team on 1800 368 450 today.
Must Read
SpillPro on 25 August 2016
Here's how to keep your spill kit functioning as it should with regular maintenance ...
Read more
SpillPro on 2 May 2016
Sometimes transporting medical waste from remote sites is cost-prohibitive. Here's how to eliminate that problem by disposing of it on site ...
Read more