Containment booms. They're the first line of defence following a spill. And an effective spill defence comes down to a single factor. Time.
That's why SpillPro containment booms are designed to put the clock on your side.

Easily transported. Rapidly deployed. Tough enough to contain large spills – even in fast-moving water. Our range or containment booms will help you manage spills of any size – quickly and effectively. And not just containment booms. We supply end-to-end spill solutions – including training and support. So one point of contact is all you need for efficient spill management.
Why choose SpillPro for containment booms
Since 2001, SpillPro has been Australia's foremost supplier of containment booms. Just ask the likes of Rio Tinto. ExxonMobil. And BHP Billiton.
But we don't just supply the booms. We can commission them on site. Train your staff on safe and effective boom operation. Schedule equipment services that suit your timetable. And supply accessories to boost your containment boom's effectiveness.
Even if you want general advice. Just pick up the phone. Because we're based right here in Australia. Your single point of contact for end-to-end spill management.
Extensive containment boom range
Offshore. Nearshore. Fast current. Calm water. We supply containment booms for all applications.
Whether you need to deploy by boat or from the shore. Even if you need to conduct in-situ burns. SpillPro's reliable, high-quality booms can be immediately dispatched to most locations – even at short notice.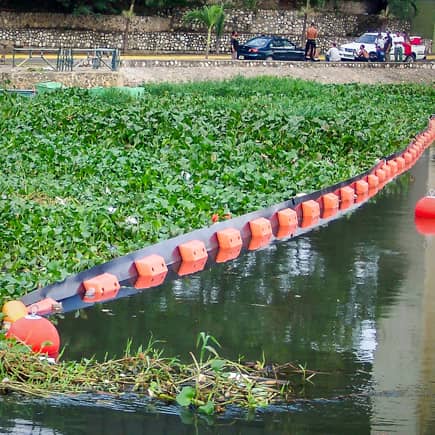 Ask about containment booms
Oil containment booms
Key points
Contains oil spills quickly
Reduces impact on the environment
Makes oil recovery faster and easier
Overview
From the moment the first oil drop hits the water, the clock is ticking.
That's why our oil containment booms put time back on your side. They're easy to transport, fast to deploy and strong enough for use on even the most challenging oil spills. They're the fast and effective response to on water oil spills.
We can commission your oil containment booms on site, train your staff in proper usage, and organise servicing. We also have a full range of oil containment boom accessories.
Boom reels
Key points
Store a range of different containment boom types
Makes boom transportation and deployment easy
Faster spill containment
Store large volumes of boom in limited space
Overview
From the moment the first oil drop hits the water, the clock is ticking. So combine SpillPro's boom reels and containment booms to put time back on your side.
Our reels are the fastest and most efficient means of storing, deploying and retrieving long containment booms.
SpillPro boom reels also help prevent boom damage and reduce storage space requirements.
Boom accessories
Key points
Make boom operation safer
Make maintenance and repair easy
Overview
SpillPro offers a range of accessories to aid deployment and operation of our floating containment products.
Allowing accurate, secure and easy boom positioning, our accessories ensure your containment effort is as effective as possible.
BoomVane
Key points
Contain spills quickly
Only one vessel required
Simple approach to containment
Overview
BoomVane from SpilPro makes spill containment simple. It's designed for deployment by a single boat – or from the shore without a boat. Harnessing the power of the current and speed of the vessel, there's no need for anchors, outriggers or multiple vessels.
Because there's no co-ordination needed between boats, your operation is easier to manage. The result is a quicker, more effective containment effort – saving you money.
With simple design and functionality, BoomVane makes rapid deployment and containment possible in rivers, canals, estuaries and at sea.
Fire booms
Key points
Contains large volumes of oil
Facilitates effective controlled burns
Overview
Controlled burns. They require a containment boom that can stand the heat. One that can be deployed quickly and efficiently. One that will contain enough oil to facilitate burning – and avoid serious environmental damage.
That's why fire booms from SpillPro ensure even the largest spills can be managed effectively through controlled in-situ burning.
Thanks to their highly heat-resistant and water-cooled construction, our fire booms help eliminate large volumes of oil in minimal time. Easily transported and deployed, they put time on your side – meaning limited impact on the surrounding environment.
Trash and debris booms
Key points
Removes trash from waterways
Reduces impact on environment
Saves time and money on clean-up
Overview
Clear detritus from waterways with SpillPro trash and debris exclusion barriers. With a heavy-duty construction, they're built for total reliability. They're capable of containing everything from light floating rubbish to heavy logs.
Easily transported, SpillPro trash and debris booms reduce the time and cost involved in expensive clean-up programs. You can have confidence in their ability to protect sensitive water intakes, rivers and harbours.