Dispersants and Equipment
SpillPro's third generation dispersants help you manage spills of any size – quickly and effectively.
Add to that our market-leading dispersant spraying equipment. Our renowned training and support. And all the other equipment you need for time-efficient spill management. Like booms, skimmers and workboats. The result is one point of contact for effective end-to-end spill solutions.
Why choose SpillPro dispersants and equipment?
For 15 years, SpillPro has been Australia's foremost supplier of oil dispersants. Just ask ExxonMobil.
But we don't just supply the dispersants and equipment. We can train your staff on their safe and effective use. Schedule services that suit your timetable. And supply accessories to boost your dispersants' effectiveness.
Even if you want general spill advice. Just pick up the phone. Because we're based right here in Australia. Your single point of contact for end-to-end spill management.
Carefully-selected dispersants range
Selected for their effectiveness and versatility, SpillPro exclusively stocks Finasol 51 and Finasol 52. They are the first dispersant forumals to comply with all three major international regulations. They can be used in a range of environments with varied temperature and salinity. And they can be applied using a wide range of dispersant equipment.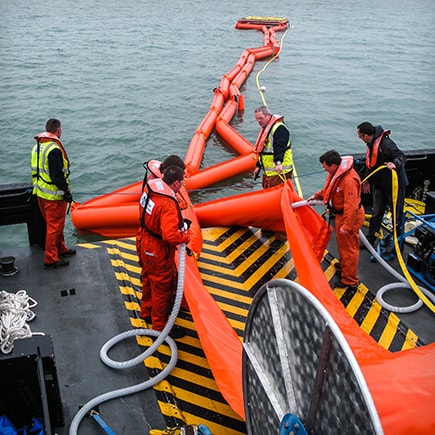 Ask about dispersants and equipment
Dispersants
Key points
Fast biodegradation of offshore oil spills
Reduce environmental effect of large spills
Can be used over vast geographic areas
Overview
Oil dispersants from SpillPro efficiently and safely break down oil following a spill.
Through the biodegradation process, our Finasol dispersants diminish hydrocarbons to levels deemed safe by local and international regulators.
Our dispersants can be applied to vast areas, making even the largest spill manageable.
The result is time-efficient spill management. Minimal environmental damage. And reduced need for costly clean-up efforts.
Dispersant equipment
Key points
Fast biodegradation of offshore oil spills
Cost-efficient dispersant spraying
Reduce environmental effect of large spills
Can be used over vast areas
Overview
SpillPro dispersant equipment is the fastest, most cost-effective way of applying dispersant to oil spills. That's because our BoomVane, Elaspray and Neat Sweep systems are engineered to accurately apply dispersants over wide areas.
They're more accurate and more cost-effective than aircraft. And they can cover a much wider area than traditional boat-mounted systems – making even the largest of spills manageable.