Remote spills. They require a rapid, mobile containment effort – often without power.
Thanks to SpillPro pumps and power packs, spill control is possible anywhere. We can supply the ideal pump and diesel power pack combination.
Our range also includes heavy duty pumps and electric power packs for recovery in more accessible areas.
But recovery's just the start. Pumps and power packs are just one part of our end-to-end spill solutions. From site audits to medical-grade incinerators, SpillPro is your single point of contact for total spill control.
Why choose SpillPro for pumps and power packs?
For 15 years, SpillPro has been Australia's foremost supplier of pumps and power packs. Just ask the likes of ExxonMobil, Newcastle Ports and PNG Ports.
But we don't just supply spill equipment. We can train your staff on their safe and effective use. Schedule services that suit your timetable. And supply accessories to boost your equipment's effectiveness.
Even if you want general spill advice. Just pick up the phone. Because we're based right here in Australia. Your single point of contact for end-to-end spill management.
Flexible range of pumps and power packs
At SpillPro, we know every organisation has different spill control needs. That's why we offer a large range of off-the-shelf pumps and power packs. They arrive ready to operate – so there are no costly delays.
We also happily offer on-site commissioning and training. It's all part of our commitment to end-to-end spill solutions.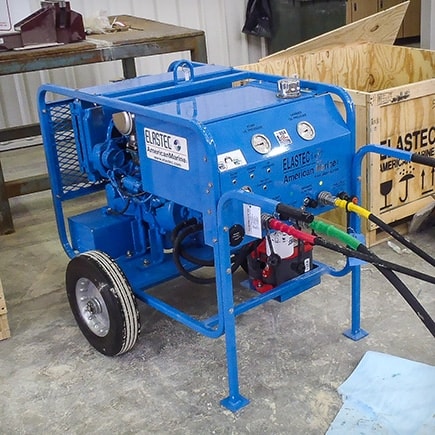 Ask about pumps and powerpacks
Pumps
Key points
Oil spill remediation
Dewatering
General pumping
Pumping fluid from vacuum system tanks
Liquid transfer
Overview
SpillPro pumps are engineered to smoothly transfer liquids in many applications.
We supply pumps for all types of recovery operation – whatever thickness or viscosity of oil you're up against. Whether you need a high-volume pump to handle large spills. Or a lightweight and compact pump for the quickest spill response possible.
Just tell us what you need. We'll match your requirements to the pump with the right head, suction lift and flow rate.
Power packs
Key points
Enables spill response where power is unavailable
Drive equipment in remote areas
Power skimmers, vacuum systems and pumps
Overview
Spills can happen anywhere. Swamps. Marshes. Sheltered coves. Or at sea.
That's where SpillPro power packs give you the capacity for rapid spill response. They provide the power to run oil skimmers, pumps and vacuum systems where electricity is unavailable. Our diesel hydraulic power packs provide a reliable, steady power source – ensuring your spill response effort goes uninterrupted.
And SpillPro electric hydraulic power packs ensure reliable spill response where electricity is available. They're also available in an explosion-proof configuration for refineries and other hazardous locations.