Spill regulations for Tasmania
Tasmania boasts flourishing ocean ecosystems that have been threatened by oil spills in the past. The Environmental Protection Agency (EPA) demands that companies operating in Tasmanian waters adhere to strict guidelines surrounding oil spills and their containment.
This article outlines these regulations, and the solutions to prevent, contain and clean up spills around Tasmania. SpillPro is a leading supplier of spill control and clean up solutions for the industrial and marine environment.
Tasmania's natural environment
Tasmania's marine environment is one of the state's greatest assets, with some areas falling under World Heritage status. Due to the prevalence of oil and gas activity in the Bass Strait, a high level of focus is placed on preventing and addressing oil spills in the ocean.
An incident investigated by the National Offshore Petroleum Safety and Environmental Management Authority (Nopsema) highlights this.
There was an oil spill in the Bass Strait from an ExxonMobil rig.

An oily sheen was identified in the water, posing a significant risk to plant and animal life.

Nopsema issued an environmental improvement notice to ExxonMobil.

This notice addressed a lack of critical testing equipment used to identify the source of a spill.
Commercial and industrial operations are also strictly controlled in Tasmania. Any company that stores environmentally hazardous materials or liquids above ground must comply with Bunding and Spill Management Guidelines issued by the EPA.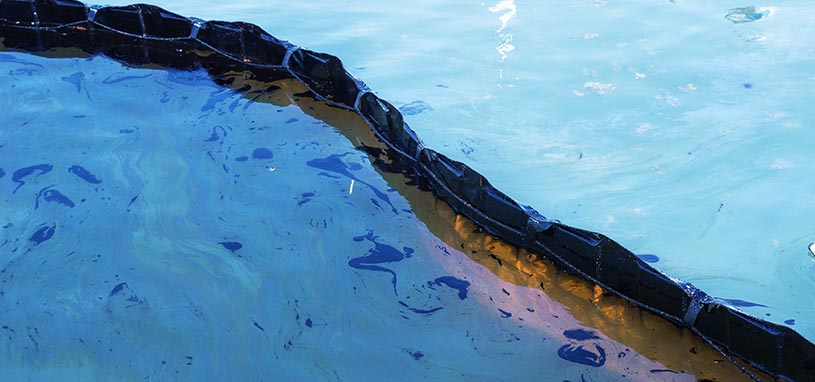 Spill management in Tasmania
The purpose of bunding and spill management is the prevention of hazardous materials from entering drains and eventually polluting the environment. This is done by creating a secondary containment area to capture spills.
Permanent tank installations require fixed bunding structures large enough to capture the catastrophic failure of the tank. These are relevant to a range of industries including:
Workshops

Transport companies

Hospitals

Factories

Sewage plants
Types of bunding include the use of spill pallets, temporary bunds and permanent structures. In terms of capacity, the EPA guidelines specify that a bunded area must be large enough to capture whichever is greater between:
110% of the biggest container in the area

25% of the total volume stored in the area
One of the key methods the EPA uses to determine the requirements for a site is the use of risk analysis. There are a number of criteria that contribute to the risk:
The type of material and the level of its impact on the environment

The volume of material stored

The ability of the facility to prevent spills with existing controls

The duration of temporary storage at that location

The type of onsite drainage

The proximity and sensitivity of the surrounding environment
Working through these risk criteria helps companies to determine the additional spill management solutions needed for their operations. It is important to consult the EPA during the design phase to ensure compliance with their requirements and permits.
Spill prevention and response solutions 
SpillPro offers a number of spill clean-up solutions for the marine environment. Marine spills tend to be quite large and spread quickly over a large surface area, meaning a quick response is of the essence. Equipment must also be able to process large volumes of oil at a rapid rate.
Containment booms 

Containment booms create a barrier on the water surface that prevent a spill from spreading further.
They are easy to transport and quick to deploy, saving valuable time during spill response.

Different models of containment boom are available for offshore, near shore, calm or fast-moving water.

In extreme cases, fire booms can be used to contain an oil slick while it is burned.
Skimmers

Skimmers recover spilled oil from the water. We have drum skimmers, weir skimmers, self-launching skimmers and suction skimmers for different water conditions and spill volumes.
Drum skimmers come in capacities ranging from 5,000 to 180,000 litres per hour.

They only carry through around 3% of water with the recovered oil meaning that almost all energy and capacity goes towards cleaning up the spill.
Spill kits

Spill kits are an essential element in spill management for any commercial or industrial facility. They contain absorbents, PPE, brooms and bags for disposal of waste.
Placing spill kits at strategic location at a work site makes it easy for employees to respond quickly and safely to a spill.
Pallets

For facilities using a large number of drums, spill pallets and IBC pallets are an ideal solution. The advantage of pallets is that they move with the container, meaning that no additional bunding is required.
Pallets have a big enough sump to meet the EPA capacity requirements

Their removable grating makes them easy to clean after a spill.
Contact SpillPro 
SpillPro is the leading spill management company in Australia, with more than 40-years experience in spill containment and response. We provide products as well as consulting services to help you meet the EPA requirements for your business.
Our technical experts also train and certify your employees to ensure each person is competent in spill prevention and response. Find out more or call our expert team on 1800 368 450 today.
Must Read
SpillPro on 25 August 2016
Here's how to keep your spill kit functioning as it should with regular maintenance ...
Read more
SpillPro on 2 May 2016
Sometimes transporting medical waste from remote sites is cost-prohibitive. Here's how to eliminate that problem by disposing of it on site ...
Read more